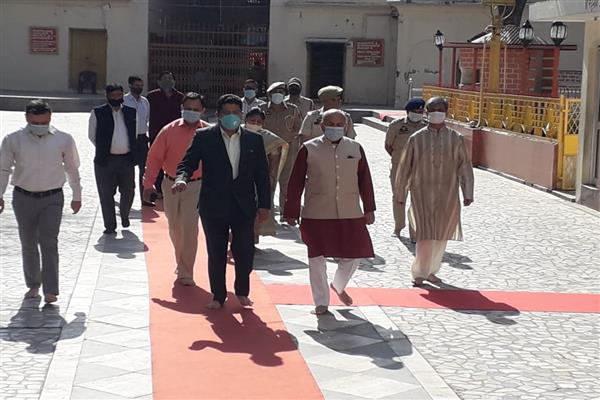 Jammu 18 April: Pankaj Mithal, Chief Justice of J&K High Court along with his wife paid obeisance at historical Shri Raghunathji Temple here on Sunday.
The Hon'ble Chief Justice and his wife performed special Pooja in the main sanctum of Shri Raghunath ji Temple.
President Dharmarth Trust Ajay Gandotra, after welcoming the Hon'ble the Chief Justice, briefed him about the history of the temple which was established by Maharaja Gulab Singh, the founder of erstwhile State of J&K. He also disseminated information about the functioning of Dharmarth Trust in looking after the affairs of temples and shrines of Jammu and Kashmir Union Territory and Ladakh UT.
Later, President Dharmarth Trust felicitated the Hon'ble Chief Justice of J&K High Court and his wife, and accompanied them. During the visit, the Hon'ble Chief Justice of J&K High Court prayed for the peace, prosperity and progress of J&K Union Territory