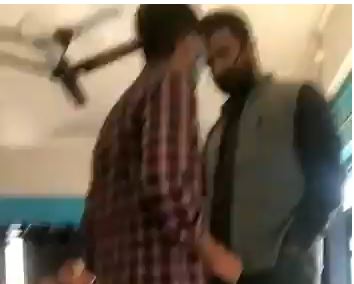 Srinagar, Apr 14: A teenager student has been beaten to pulp by a teacher in Hope Classes private coaching center in Parraypora, a video of which surfaced on social media on Wednesday.
In a video that has gone viral on various social media platforms, a teacher was seen ruthlessly slapping the student on his face as teacher was repeatedly asking him that why he did not sought his permission (for a thing not clear in the video).
Reportedly, the teacher is teaching chemistry in the institute.
The media advisor of Hope Classes Coaching Institute Parraypora, Nayeem Ahmad said that the management was yet to seek explanation from the teacher.
"In the coaching institute, there is a good teacher-student relationship but I won't say the beating of the student is justified as well. As of now we have not taken any action and have not sought any explanation so far," he said.
Nayeem also said that the student that was slapped repeatedly is receiving coaching for competitive entrance exams.
Netizens  expressed anguish over the incident as have sought action against the teacher. kno
Meanwhile KNS added that District Administration Srinagar has taken cognizance of a viral video showing a teacher slapping a student.The teacher repeatedly slaps the child and asks the student about the permission in the video.
When KNS contacted Additional Deputy Commissioner Srinagar, ADC Syed Haneef Balki, he said, " we are verifying the authenticity of the video.
We have directed the Hope Classes management to report to our office along with the teacher who can be seen in video, slapping a student."
"The strong action will be initiated against the teacher and will be banned from teaching if found guilty,"he added.
Coaching Centres Association of Kashmir (CCAK) has expressed its disappointment over the incident in which a teacher is seen beating a student.
The Association said in a statement that it is unfortunate that such an incident has happened. The Association said that it has constituted  a committee to look into the matter and recommend measures so that such incidents do not happen in future.
The Association however cautioned people especially social media users not to get swayed with the video without full knowledge. "We condemn the incident but people should not read into it too much. Unfortunately a witch hunt has been launched by people against the teacher and the coaching institute, both of whom are known for their reputation," said a spokesperson of the Association. "We all know how the pandemic has affected the students and education sector. So we should be guarded with our views. Teachers are second parents of a student and no teacher would do anything against the interest of a student."
The Association said that it will soon come out with guidelines to prevent such incidents.