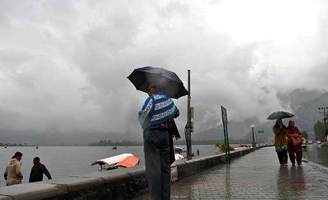 Srinagar, Mar 4: As the weatherman forecast wet weather on March 6 and 7, the minimum temperatures increased in Kashmir Valley, officials said on Thursday.
A meteorological department official told GNS that Srinagar recorded a low of 3.9°C against 2.8°C on the previous night. The temperature was 1.7°C above normal for this time of the year in this summer capital, the official said.
Qazigund recorded a low of 2.2°C against 1.4°C on the previous night while the mercury settled at 2.1°C at the famous resort of Pahalgam against 0.5°C on the earlier night.
Kokernag, also in south Kashmir, recorded a low of 3.4°C against 2.5°C on the previous night.
The minimum temperature settled at 3.4°C in Kupwara against 0.2°C on the previous night, the official said.
Gulmarg, the world famous skiing resort, recorded a minimum temperature of minus 1.0°C against minus 2.4°C on the previous night.
"Fairly widespread" rains have been predicted for March 6 while widespread rains (76-100% predictability) have been forecast on March 7.
The weatherman has also issued "yellow warning" for "isolated heavy rain/snow/thunder/lightning/hail" on March 7 and said that the weather system may impact surface traffic due to landslides on Jammu-Srinagar highway, the only surface link connecting Kashmir Valley with the outside world.
There are four types colour codes signifying the level of caution: green which means no action, yellow—situation to be watched), amber –government agencies need to be prepared for severe weather and red –action needed by the agencies. gns