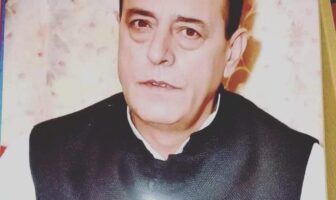 Srinagar, Feb 12: The body of a missing Kashmiri Engineer has been found near the damaged power project in Uttrakhand State of India.
Project Engineer Basharat Ahmed Zargar was one among hundreds of people who had gone missing after glacial burst in Chamoli area of Uttrakhand.
Zargar, a native of 90 Feet Soura Srinagar was working at Rishi Ganga power project in Chamoli.
Family sources confirmed  that the body of Zargar was found on Friday afternoon. They said body of the Engineer was found by NDRF near the power project.
Basharat, 53, was reportedly conducting a site inspection in the tunnel when, minutes after the glacier broke, water gushed inside blocking their exit. So far, at least thirty-five persons have been found dead while more than 160 are still missing. Rescue operation is still going on to with the help of army and navy in the area.
Meanwhile, one of the family members appealed authorities to airlift the body to Srinagar. He said that since this calamity, the son, brother and other relatives of the deceased were camping in Chamoli and now they want authorities to help them in bringing back the body.(KNT)