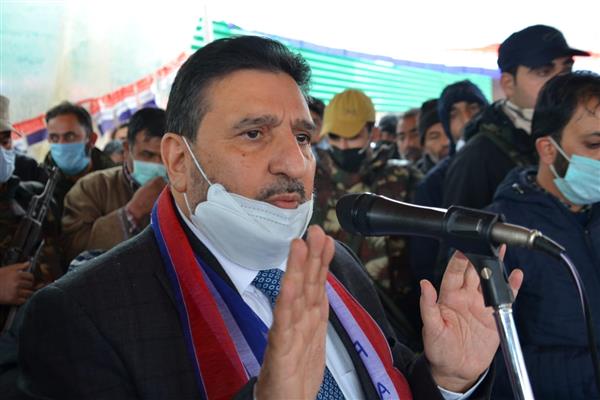 Srinagar, Feb 06: The People's Alliance for Gupkar Declaration (PAGD) on Saturday faced defeat in the election for the post of chairperson of District Development Council (DDC) in Srinagar.
Apni Party candidate Aftab Malik bagged 10 votes while Malik's rival bagged only three votes.
Bilal Ahmad, Apni Party's candidate for vice-chairperson post managed to secure nine votes while his rival from Peoples Democratic Party (PDP), Manzoor Ahmad Bhat bagged only four votes.
Notably, BJP's lone DDC member from Srinagar, Ajaz Hussain also supported JKAP candidates for both the posts.
Meanwhile, National Conference (NC) leader while reacting to the defeat said that the independent candidates, who emerged victorious on the party's support in maiden DDC polls, have joined Apni Party and thus simultaneously played a spoilsport in emerging victorious in the elections for chairperson today.
District Election Officer (District Development Commissioner) Srinagar, Dr Shahid Iqbal Choudhary said that thirteen (13) out of the total fourteen (14) elected DDC members participated in the meeting today. He said the elected member from Harwan-IV constituency could not take part in the meeting due to a health condition.
Kaiser Ahmad Ganai with 3 votes and Manzoor Ahmad Bhat with 4 votes were the runners-up in the chairperson and vice chairperson elections respectively.
Dr Shahid said the whole process of the election to the chairperson and vice chairperson positions of the DDC Srinagar was smooth adding that the elections were held in a free and fair manner.
Chairperson DDC Srinagar, Malik Aftab as per a statement issued here pledged to work for the welfare of the people in district Srinagar. He said that he will work jointly with all the members of DDC irrespective of their political affiliations for the betterment of the people.
"My first priority would be to provide hassle free basic amenities to all the localities in district Srinagar falling under the DDC jurisdiction," he said.
He thanked the people for giving him a chance to serve them through the means of the district development council. "I would also like to thank Apni Party president and its leadership for reposing trust and confidence in me and my colleagues which ensured our win in these elections," he added.