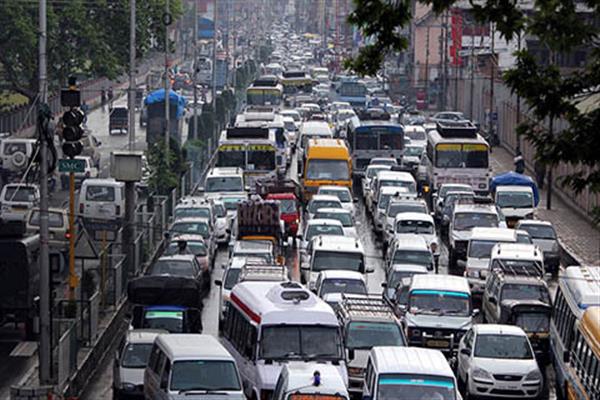 Srinagar, Jan 11: The accumulation of snow on roadsides and footpaths in the aftermath of snowfall has led to the massive gridlocks in the entire Srinagar City on Monday, thus leaving the commuters to lurch at large.
The residents in Srinagar stated that the administration has not been able to clear the snow covered roads yet, causing difficulties for the commuters as it is hampering the smooth passage to them.
Massive gridlocks across the City were witnessed today and it took hours for people to reach their destinations.
A Shopkeeper at Lal Chowk said, "It took me three hours to reach my shop from downtown as the roads could still witness accumulation of snow."
"Ideally, I close down my shop at 6:00PM but it is 7:00PM the roads are still jam packed with vehicles, as I have to reach Fateh Kadal, I don't know when will I reach my home," said a shopkeeper at Lal Chowk.
Earlier, Kashmir received heavy snowfall last week following which the Srinagar Administration issued an appeal to the public to avoid using private vehicles to facilitate unhindered snow clearance operation.
Senior Superintendent of Police (SSP) Traffic City Javid Ahmad Koul said that "all our men are deployed on City roads. We have extended the stand down time. We are facilitating the traffic, but the snow which is still accumulated on roadsides and footpaths is causing inconvenience in free flow of traffic."
"We have given the proposal to Administration for Odd Even formula for traffic regulations in city for next 10 days," he said—(KNO)