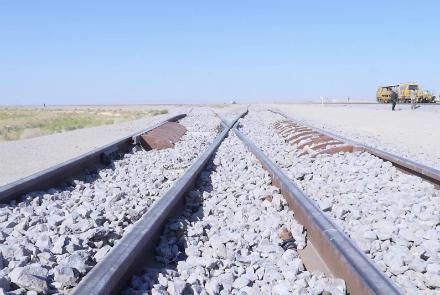 Kabul:  Nisar Ahmed Faizi Ghoryani, the Afghan Minister for Industry and Commerce, on Wednesday met Pakistan's Prime Minister Imran Khan in Islamabad and the two discussed issues around bilateral relations including the expansion of a railway line project between the Afghan cities of Mazar-e-Sharif – Kabul and Peshawar, the capital of Pakistan's Khyber Pakhtunkhwa province, Tolo news reported.
"The Prime Minister mentioned the Trans-Afghan railway line project, "Mazar-e-Sharif – Kabul – Peshawar," and highlighted Pakistan's support to Uzbekistan's efforts to secure financing for the project. In this regard, he mentioned that he had signed a Joint Appeal Letter addressed to the Heads of various International Financial Institutions (IFIs) by Heads of State/Government of Uzbekistan, Afghanistan and Pakistan," the office of Pakistan's Prime Minister said in a statement on Wednesday.
Experts have said that the project will cost $4 – $4.5 billion.
The Afghan delegation led by Nisar Ahmed Ghoryani is on a five-day visit to Pakistan from  December 27-31, 2020, for the 8th meeting of Afghanistan-Pakistan Transit Trade Coordination Authority (APTTCA).
"At the sideline of the APTTCA meeting, delegates from the two sides also held talks about the railway link between the two countries, governments of the two countries will soon follow the issue," said Fawad Ahmadi, a spokesman for the Ministry of Commerce and Industries.
The Afghanistan Railway Authority (ARA) has said that a consortium will be created to help attract financial support for the project.
According to ARA officials, currently the World Bank and the Asian Development Bank have expressed interest in funding the project.
"The cost of the project is estimated at between $4 to $4.5 billion. This is a regional project and all countries will benefit from it. Therefore, all three countries are trying to secure financial resources for the project," said Abdul Bari Sediqqi, the technical deputy head of the ARA.
Officials from the Afghanistan Chambers Federation said that at the sideline of APTTCA talks were also held about the transfer of goods from Afghanistan through Torkham and Spin Boldak crossings to Pakistan.
"A railway line will be established via Peshawar towards Jalalabad and onward to Chaman and Kandahar and the two countries have agreed on it," said Khan Jan Alokozay, the head of Afghanistan Chambers Federation.