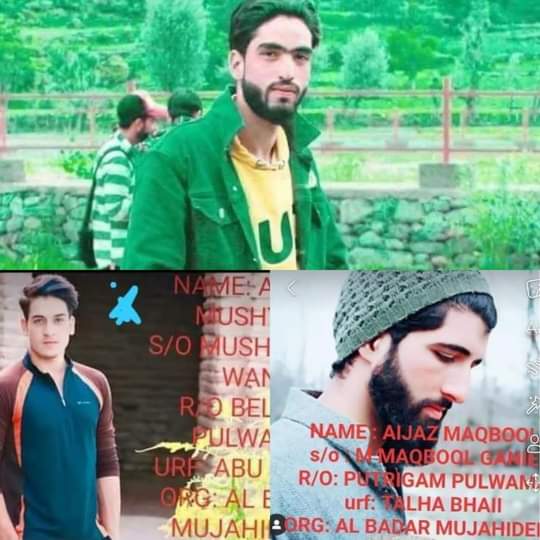 Pulwama, Dec 30: None of the three youth who were killed in an encounter at Lawaypora area of Srinagar outskirts on Wednesday had any case or FIR against them in their respective police stations neither was any missing report filed about them in South Kashmir's Pulwama or Shopian districts.
A police official said in Rajpora police station, there was no militancy related case against the two youth killed in Lawaypora encounter—Aijaz Maqbool Ganai, 20, and Athar Mushtaq  Wani, 19. "There was no missing complaint lodged in Rajpora police station about the duo," the official said.
He said that there is not a single case of stone pelting or any adverse complaint against the slain duo in Rajpora police station.
Aijaz belonged to Putrigam area of Pulwama while Athar hailed from Below, Pulwama, both areas falling under the jurisdiction of police station Rajpora.
"There is nothing adverse against the slain duo in police records," a police official said.
Similarly, the third slain youth Zubair Ahmed Lone of Tukrwangan, Shopian that comes under the jurisdiction of police station Zainpora had left his home at 1 o' clock yesterday afternoon.
"He was into shuttering business," a family member said. Police sources in Zainapora police station said that there was no complaint against Zubair with them.
"He was never booked for any adverse thing including creating law and order or taking part in stone pelting. There is no militancy record with us about Zubair neither was any missing complaint lodged by his family as he was with his family till yesterday afternoon," the police sources said.
Meanwhile, family members of slain trio urged the Lieutenant Governor Manoj Sinha to order a probe at the highest level to find out reality about "Lawaypora gunfight."  Pertinently, earlier in the day, addressing a joint press conference with the police, GoC Kilo Force H S Sahi said that three militants were killed in Lawaypora encounter as they refused repeated surrender offers. He said that the slain trio were planning a big strike on security forces in the area. One Ak-47 rifle and two pistols were recovered from the slain trio, as per police—(KNO)