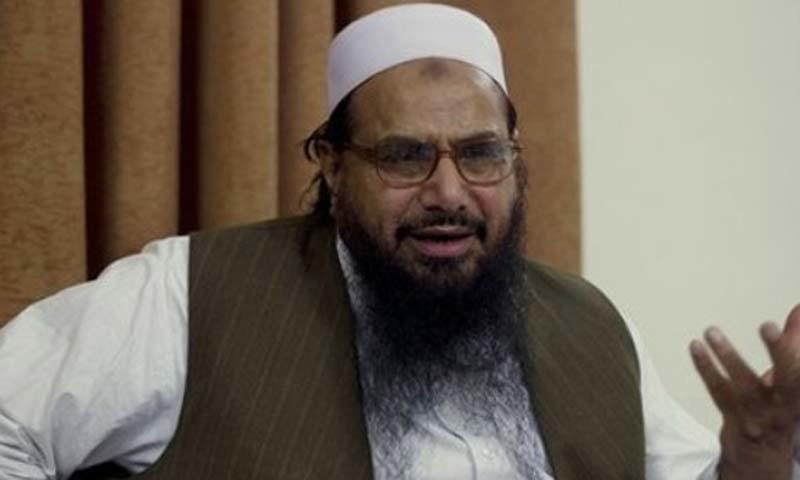 LAHORE: Convicted in yet another case, an anti-terrorism court (ATC) sentenced on Friday chief of the banned Jamaatud Dawa (JuD) Hafiz Saeed to 15 years and six months imprisonment, according to Express tribune newspaper.
Besides sentencing Saeed, ATC Judge Ijaz Ahmed Buttar also handed down punishments to Hafiz Abdul Salam, Zafar Iqbal, Muhammad Ashraf and Yahya Mujahid to 15 years and six-month imprisonment, whereas a six-month imprisonment was handed down to Hafiz Abdul Rehman Makki.
According to the details released by the proscribed outfit, those convicted would also have to pay a fine of Rs200,000 each.
Verdicts of three cases against Hafiz Saeed have already been pronounced, whereas several others against JuD leaders are pending with the ATCs.
On November 19, an ATC CONVICTED Hafiz Saeed and three others in two separate terror-financing cases.
The court handed down 10 years and six-month imprisonment each to Saeed, Malik Zafar Iqbal and Yahya Mujahid, besides six months imprisonment to Abdul Rehman Makki.
The court also forfeited property possessed by Saeed, besides imposing a fine of Rs110,000 on him.
ATC-I Judge Arshad Hussain Bhutta conducted the proceedings and handed down the sentences on charges mentioned in the FIR numbers 16 and 25 of 2019, registered and investigated by Counter-Terrorism Department (CTD).
The CTD had registered the cases against the convicts under Section 11-N of Anti-Terrorism Act 1997. It was alleged that the convicts committed terrorism financing by managing assets of a proscribed organisation, and helped raise funds.
It is pertinent to mention that Saeed has been BEHIND BARS since July 2019.
On September 17, it was reported that the government has frozen 964 properties belonging to JuD and Jaish-e-Mohammad (JeM). This was told by the interior ministry to the Senate.
In response to Jamaat-e-Islami Senator Mushtaq Ahmed's query, the ministry told the upper house of parliament that 907 of the frozen properties belonged to JuD and 57 to JeM.
Moreover, this year on June 11, the US State Department welcomed the indictment of four leaders of the JuD, on charges of terror financing.
An anti-terrorism court in Lahore had indicted Makki and three other leaders of the JuD. Makki and other suspects had pleaded not guilty and decided to face the trial.
"Welcome Pakistan's indictment on June 9 of 4 leaders from Jamaat ud Dawa, a front organization of the LeT terrorist group," the US Department for South and Central Asian Affairs had said in a tweet from its official handle. (Express Tribune)