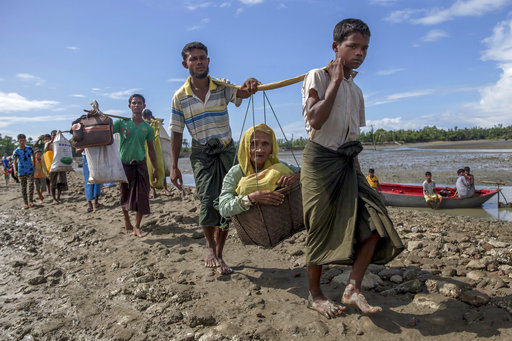 Dhaka, December 05: Going ahead with its plan to partially relocate Rohingyas from the refugee camps of Cox's Bazar, the government of Bangladesh sent a batch of 1642 Rohingyas to the newly developed facility at Bhashan char on Friday, DD news reported.
The refugees were taken to Chattogram from Cox's Bazar camps on Thursday evening from where they were transported to the Bhashan char under the supervision of the Bangladesh navy on Friday.
Another 3500 Rohingyas will be sent to the Bhashan char this week and the relocation will be completed within a week, official news agency BSS quoted a navy official, the report said.
The local media quoted several Rohingya refugees taken to Bhashan char expressing happiness at the facilities available there.
Eight naval ships carried the Rohingya refugees to the relocation facility on Friday afternoon. 22 NGOs have started work at the Bhashan char to provide cooked food to the refugees. Food items have been stored for 3 months for the refugees.
Additional Commissioner of Refugee Relief and Repatriation office Mohammad Samsuddauja told BSS that livestock like buffaloes, sheep, ducks etc are being reared at the Bhashan char to start economic activities. Vegetable and food crops are also being planted on an experimental basis.
The Ministry of Foreign Affairs (MoFA) in a statement on Friday reaffirmed that the relocation has been done in a completely voluntary manner. It said relocation is part of the broader plan to repatriate the Rohingya refugees which is the only priority for Bangladesh.
The statement said that the government has ensured adequate supply of food along with proper sanitation and medical facilities at Bhashan char.  Arrangement for hospitals with qualified health professionals, adequate COVID testing and treatment facilities are in place at the new facility, the DD news report added.
The MoFA said that relocation was essential due to extreme congestion and security concerns at the overcrowded refugee camps in Cox's Bazar which are accommodating more than a million refugees.
Allaying the fears about threat of cyclones to the Bhashan char facility, the government pointed out that the structures suffered no damage during the cyclone Amphan recently, the report added.
Currently more than a million Rohingya are living in refugee camps in Bangladesh after fleeing the military crackdown in the Rakhine province of Myanmar in August 2017.