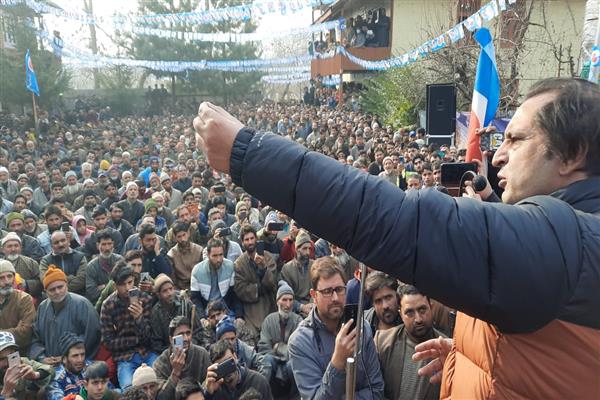 Handwara, Dec 03: People's Conference Chairman and spokesperson of PAGD Sajad Lone on Thursday said once the ongoing DDC polls are over, those alleged PAGD with "ant-national", "Gupkar Gang" like titles will have to answer.
Lone who was addressing a workers convention at Zachaldara village of Handwara in north Kashmir's Kupwara district, lashed out on those who levelled allegations on PAGD. "Those levelling allegations PAGD should answer what they spit once DDC elections are over", Lone said.
"I am ready to give my life for PAGD which has been formed for protecting the dignity and honor of people of Jammu and Kashmir", he said.
He was accompanied by former MLA Kupwara Bashir Ahmad Dar and several other political activists.
Talking to reporters on the sidelines of the event, the PAGD spokesperson appealed electorates to venture out in bulk on poll day and cast their ballots in favour of allance candidate.
Notably Peoples's Alliance for Gupkar Declaration (PAGD) comprising of six regional mainstream political parties, has given a joint mandate to Mir Suleiman, a PC leader for contesting ongoing DDC polls.
The polls that started from November 28 has completed its two phases, however the third phase is scheduled to be held on Dec 04. (KNS)