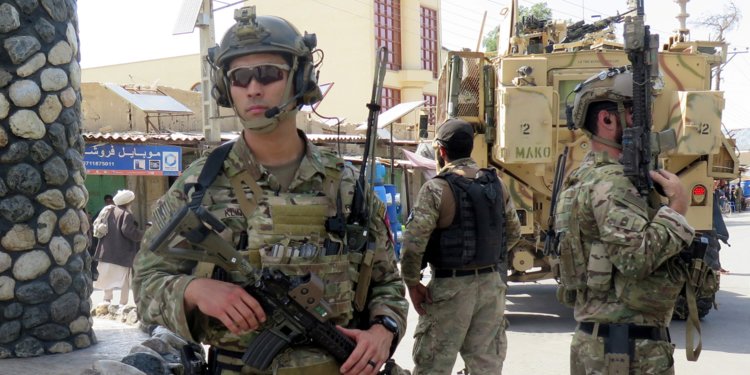 Kabul, Nov 28: The US has closed at least 10 bases across Afghanistan since the signing of a deal with the Taliban in February, Afghan and US officials told the Washington Post. 
And on Friday night CNN reported the aircraft carrier USS Nimitz is being moved back into the Persian Gulf region along with other warships to provide combat support and air cover as US troops withdraw from Iraq and Afghanistan by January 15 under President Trump's orders, according to a defense official.
The Washington Post report said that the base closures are part of the complete withdrawal of US troops from Afghanistan outlined in the US-Taliban deal.
An Afghan official and a US official on condition of anonymity confirmed to the Washington Post the closure of the bases, several of which were previously unreported.
Little is known about what remains of those bases, the report said, adding that many were in Afghanistan's most volatile provinces where US support for Afghan operations has been critical in pushing back the Taliban. Some had been completely handed over to Afghan security forces, the report said.
Others may have been vacated and left in place in a way in which they could be occupied again in the future if US and Afghan officials consider it necessary, it added.
It is also unclear how much equipment — more difficult to move than people — is left at each of the closed installations.
Troops withdrawal from Afghanistan  
US Secretary of State Mike Pompeo defended President Trump's plan to reduce the number of troops in Afghanistan to 2,500 by mid-January, saying that getting American troops out of "harm's way" in Afghanistan "is the mission set."
Quoted in a report by Fox News on Thursday, Pompeo said no troops in the country would not mean no security for Americans.
"President Trump has been very clear we're going to protect and secure the homeland, but we're not going to have our young men and women in harm's way when it doesn't deliver real security benefits for the United States and for our allies," Pompeo as quoted by Fox News.
"The president to date has said that we're going to go from where we are today, something just over 4,000, to around 2,500" troops, Pompeo said as quoted by Fox News.
"The threat from terrorism around the world — from Islamic extremism, Islamic terrorism — is real. It doesn't just emanate from Afghanistan," Pompeo said as quoted by Fox News.
NATO Secretary General Jens Stoltenberg this week said that an early and hasty withdrawal of troops from Afghanistan might endanger the gains "we have made, and that's a risky project."
He said the US's position on the withdrawal is clear as the United States is going to reduce its presence in Afghanistan from roughly 4,500 to around 2,500 troops.
Violence remains high in Afghanistan despite efforts for peace. Last week, the Defense Ministry reported clashes in more than 20 provinces.  (The news items was published in Tolo News)