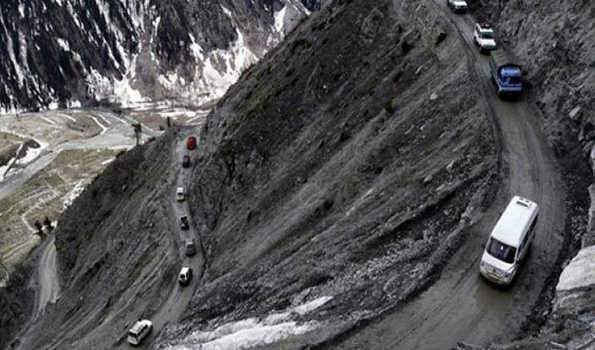 Ganderbal Nov 26:The 434-km-long Srinagar-Ladakh highway is closed to traffic for the fourth day in a row, leaving hundreds of small and large vehicles stranded in Kargil, Dras, Sonamarg, Gagangir and Kullan.
According to the Meteorological Department, the Srinagar-Ladakh highway has been closed for traffic as a precautionary measure due to snowfall in the upper parts of the valley on November 23, leaving hundreds of vehicles stranded on both sides of the highway.
Drivers of These stranded vehicles in Sonamarg said over the phone that, they were facing difficulties due to severe shortage of drinking water due to snowfall here.
SDM Drass Asghar Hussainsaid over phone that, project Wajik from Drass to Zero Point has completed the snow removal work while Border Road Organization has also started the snow removal work from Zojila Pass.
He said that, avalanches had fallen at three places in Zojila which are being removed rapidly and if the weather remains favorable, the highway will be made passable by this evening.
DSP Traffic Rural Ganderbal, Faim Ali said that, a military convoy would be dispatched from Sonamarg and Gomri today and if the weather remained favorable. So tomorrow, stranded vehicles will be sent from Sonamarg to Kargil. (KNS).