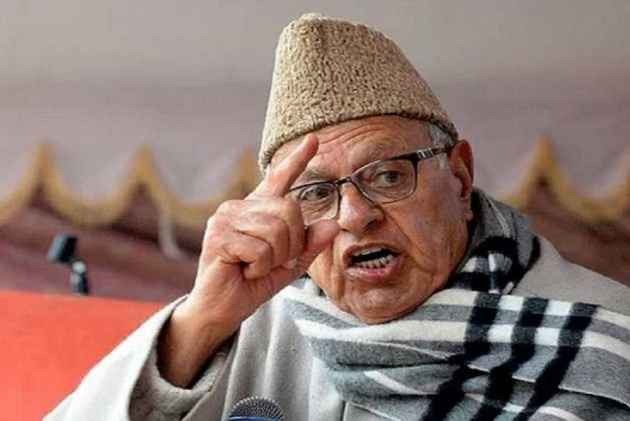 Srinagar, Nov 24 : National Conference (NC) president Dr Farooq Abdullah on Tuesday refuted allegation leveled by some media reports while including him among the beneficiaries of Roshni Scheme, saying I am not the beneficiary of the scheme.
"I am not the beneficiary of the Roshni Scheme. The news attributed towards me is unfounded. I have not availed of the Roshni Scheme for either my Srinagar residence or for Jammu residence", Dr Farooq said.
On Monday, the Jammu and Kashmir administration published on its website the list of beneficiaries under the Roshni Act. The beneficiaries include former State ministers, retired civil servants, politicians and business tycoons.
The party, Abdullah headed also rejected the allegations that its party president is involved in Roshni Land scam, saying the news in the media suggesting so was completely false.
When asked about DDC polls, Dr Abdullah said that I appeal people of Jammu and Kashmir to venture out and cast their ballots against those who want to divide J&K on communal lines.
Meanwhile Farooq Abdullah and his son Omar Abdullah named by the dministration in a Roshni act beneficiaries list has denied their residential house in Jammu is built over illegally-possessed land.
The names of Abduallah's was made public today on the directions of administration of Jammu and Kashmir High Court to make public land given under the controversial Roshni land scheme.
Senior Abdullah denied the charge, " Neither my house in Srinagar nor in Jammu is on land availed under Roshni Act."
According to the list, the headquarters of their National Conference in both Srinagar and Jammu were legalised under the controversial Roshni Act.
The administration in Jammu has revealed that the residential house of the Abdullahs, build over an area of nearly an acre at Sunjwan, is encroached state land (physically encroached but not shown in revenue record) other than Roshi Act.
NC vice president Omar Abdullah also refuted it, "The news attributing to sources that Dr Farooq Abdullah is a beneficiary of the Roshni Act is completely false and is being spread with a malicious intent. Both his houses at Jammu and Srinagar have nothing to do with the said Act.
"Dr Farooq Abdullah has NOT availed of the Roshni Scheme for either his residence in Srinagar or in Jammu and any one who says otherwise is lying. The fact that they are using sources to plant this story shows that it has no legs to stand on," Omar said (KNS) .