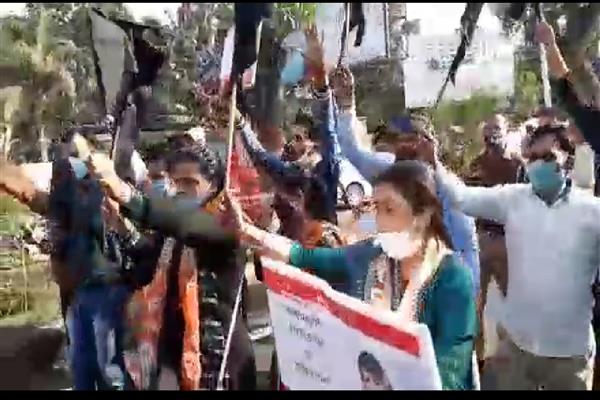 Srinagar, November 5: BJP workers and other groups today protested against the Mehbooba Mufti during her arrival in Jammu.
Reports said a large number of BJP workers who had assembled outside the Jammu airport waved black flags duirng the arrival of Mehbooba Mufti.
Forces who were deployed in strength prevented the BJP workers from reaching Mehbooba Muftis cavalcade.
The BJP workers were protesting against his arrival in Jammu and alleged her of making anti-national comment on the national flag.
Sources said that Mehbooba Mufti is in Jammu for Peoples Alliance meeting in Jammu which is scheduled on 7th of November
.However sources informed that she will also be meeting Jammu party leaders and top workers to draw a consensus regarding the PAGD agenda.(KNS)