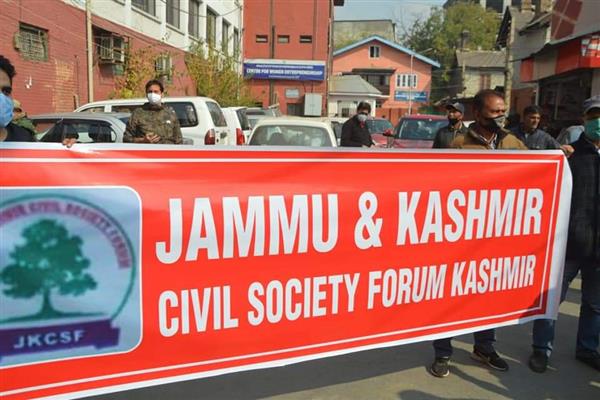 Srinagar, Nov 2: Jammu Kashmir Civil Society Forum (JKCSF) Monday condemned New Delhi's move allowing all Indians to buy land in Jammu and Kashmir.
A protest led by former Employees and political leader Abdul Qayoom Wani was held in Srinagar's Press Enclave.
Protesters were carrying banners and placards denouncing the new laws that are being implemented in Jammu and Kashmir against the wishes of common people.
Describing the order by the Ministry of Home Affairs as an unconstitutional and illegal, Qayoom Wani said that this was a massive assault on the rights of the people of J&K and Ladakh. "The identity of Kashmirs, Dogras and Bodhs of Ladakh are at risk. It is high time we wake up from slumber and fight with full forces. After the abrogation of Article 370 last year, all the laws extended in Jammu and Kashmir are illegal, irrational and unconstitutional," Wani as per news agencysaid.
"People of Jammu and Kashmir will fight these illegal measures on all fronts," he said and slammed the repeal of the J&K Big Landed Estates Abolition Act, which he termed as the "first-ever agrarian reform in the subcontinent".
'Brazen violation of constitutional propriety is being done.
Centre's exercise of powers under the J&K Reorganisation Act, 2019, is a "brazen violation" of the principle of constitutional propriety. The Union Government should have desisted from such actions at a juncture when the Supreme Court is hearing petitions challenging the validity of the decisions taken on August 5, 2019," he said.
On this occasion, Farooq Trali, another Civil Society Forum member said that: "the unconstitutional measure is clearly designed as an attempt to preempt the outcome of the challenge before the Supreme Court".
Shortly after the culmination protest, police bundled the protesters in the vehicle and shifted them to police station Kothi Bagh. (KNT)