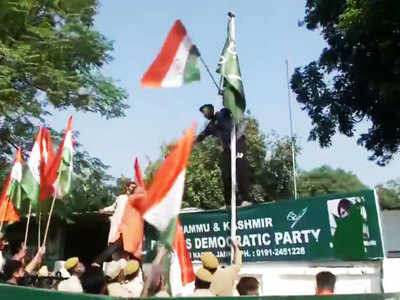 Jammu, Oct 26: A high voltage political drama continued at the PDP's Jammu office on Monday with dozens of individuals and members from various social organisations once again trying to unfurl the tri-colour there. However, the move was foiled by the police forces deployed there to do away with the law and order issue.
A controversy had erupted after a recent statement by PDP President Mehbooba Mufti, who stated that she will not hold the national flag in her hands till the Government of India restores the flag of erstwhile J&K State. Earlier, on Sunday, a social activist from Jammu namely Amandeep Singh Boparai accompanied by hundreds of his supporters reached at PDP office where they installed flag after scuffle with PDP leaders.
A group of Akhil Bhartiya Vishwa Parishad (ABVP) activists on Sunday evening also reached the PDP office and fixed national flags besides throwing green ink on the poster of Mehbooba Mufti.
Meanwhile, on Monday, activists and social groups reached the PDP office again and attempted to install the flag and raised pro-patriotic slogans and slogans against Mehbooba Mufti.
"Mehbooba Mufti has stated that no one will hold Tiranga. We ask her to visit Jammu and to see that everyone holds a Tiranga in their hands," said Amandeep Singh Boparai who is a social activist.
PDP spokesman and former MLC, Adv Firdous Tak on the other hand accused BJP of trying to cash-in on the situation to regain its lost ground.
"This is part of cheap politics as BJP is left with no answer to public queries and is now trying to do such acts," Tak added. Authorities, however have made heavy deployment of police in and around PDP office located in estates quarters area in Gandhi Nagar to keep situation under control—(KNO)