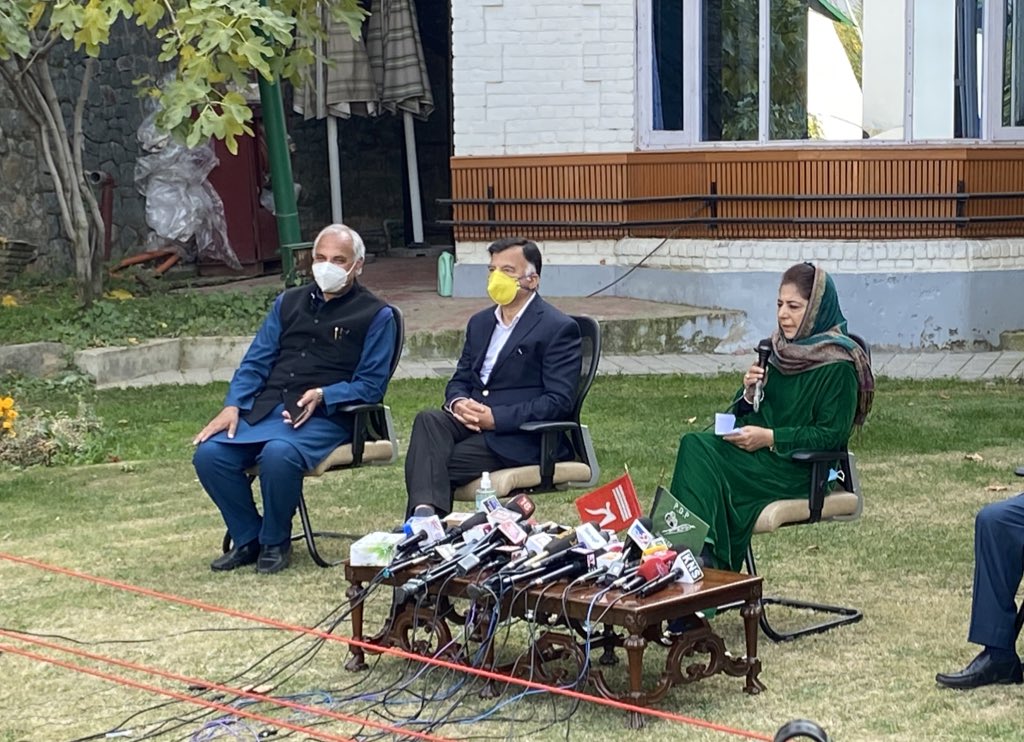 Muzamil Jaleel
The local pro-India parties have come together on one main issue – August 5. They are claiming that they will fight New Delhi's unilateral decision to take away the special status of the state and downgrade it into two directly ruled Union Territories. If that claim is true, then they will have to begin with by ensuring that they don't participate in anything introduced post August 5 because their participation, their support, would only normalise these massive changes.
PDP chief Mehbooba Mufti said that the new alliance will take a call on participation in the District Development Council (DDC) elections. She also said that they will have to deliberate because their non participation may put people in difficulty and they will have to think about that.
This is completely contrary to what they have argued to be the primary aim of their new alliance – a joint political fight to undo August 5.
If the alliance parties consider fighting the election for DDCs, which are primarily aimed at normalising August 5, what is left to fight then. Next they will say that they need to fight elections for the new degraded and powerless assembly too. This argument that if they don't contest, they will give a walkover to BJP and its affiliates is flawed because any such election will have no bearing on New Delhi's plans in any way.
All these political moves are being made so that there is no hurdle in the implementation of August 5 project, They should have, in fact, known this till now because even the earlier assembly which was much more powerful (at least theoretically) than any of these Councils couldn't prevent anything.
The claim that Mehbooba Mufti or Omar Abdullah individually won't fight elections till August 5 is undone doesn't mean anything. The post August 5 arrangement introduced by New Delhi has made any future CM (if at all there is any) like a Mayor with no powers even on paper and if a former CM doesn't want to become a Mayor, it is no big deal.
If these parties, who have formed the new alliance, participate in any post August 5 process directly or indirectly, their claim to fight for undoing of August 5 is a lie. The primary aim for all these exercises – Panchayat polls, DDC polls and various other administrative programmes – is only to normalise the changes brought in on and after August 5.
And if these parties think that participation in any such processes may provide them a breather, avoid the consistent pressure that they are in and earn them some space within the system, they are wrong. They will get no leverage at all. They must understand that they are unwanted in the new scheme of things. It has been made abundantly clear.
After seven decades, they have exhausted their utility. The slot that they used to occupy is no longer there. They may, however, get some immediate relief from questioning/ arrest in cases etc if they directly or indirectly join the process right now and help normalise August 5. That too will be temporary because eventually they will have to completely submit to this new order and then accept to fade away.
If these parties, who have formed the new alliance, participate in any post August 5 process directly or indirectly, their claim to fight for undoing of August 5 is a lie.
Mufti said that this time the leaders (of the pro India parties) will have to give their blood and that she will be the first to give her blood. That is a hyperbole, auxesis… The last thing Kashmir needs is blood from any of these leaders.
But it does need these leaders to realise that they have played a pivotal role to condemn Kashmir to this moment in history. It needs that these leaders to realise that they have to rethink every decision they took right from 39.
It needs that these leaders to realise that patch work solutions would only normalise the new order. It needs these leaders to realise that harping on their old slogans/ their old politics won't work: August 5 didn't happen in a vacuum, it is an outcome of that politics only.
For once these leaders need to tell the truth about their commitment to the political fight they claim to wage. And if they are indeed committed this time, then they will have to first look within, reflect on all that they have said and done, accept that the road they have taken had August 5 the only destination.
You can't do the same thing over and over again and expect different results.
(The article appeared on the facebook page of the author)