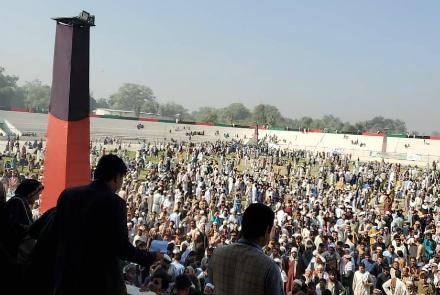 Kabul, October 21: At least 12 women were trampled to death–and 9 women and 3 men were injured– during a stampede occurring among those seeking Pakistani visas in Jalalabad city, capital of Nangarhar province on Wednesday, local officials said, Tole news reported.
A crowd of thousands assembled in Jalalabad stadium this morning to submit passports for Pakistani visas after months of coronavirus-related travel bans, according to local officials.
The people were come from Kunar, Nangarhar and other eastern parts of the country to apply for visas, eyewitnesses said.
The eyewitnesses are accusing Pakistan's consulate of negligence.
"I saw three women die due to the huge crowd; no one was able to do anything," an eyewitness said.
Mohammad Daoud, another eyewitness, said: "I come here to apply for a visa but there was a huge crowd and it's very difficult to apply, especially for women and old men. The government needs to do something about this issue."
Local health officials also confirmed that the "bodies of 12 women have been brought to the hospital."
Each day, hundreds of people gather for Pakistani visas outside the Pakistani consulate, with some even spending the whole night waiting in line.
Mansoor Ahmad Khan, Pakistan's ambassador to Afghanistan, in a tweet after the incident said: "Deeply saddened at the reports of casualties at a stadium in Jalalabad 5km from Pakistani Consulate where visa applicants were being organized by Afghan provincial authorities. We sympathize with the families of victims."
"We are engaged with Afghan authorities for better facilitation of visa applicants. We are committed to continue visa issuance to Afghan nationals under new visa policy while making the process smoother and streamlined at our end," he said.
On October 13, Pakistan's embassy in Kabul at a press release said that it had taken urgent measures to facilitate Pakistani visas for Afghan nationals.
"The Embassy of Pakistan in Kabul has taken urgent measures to facilitate Pakistani visas for Afghan nationals. Pakistan's consulates in Jalalabad, Kandahar, Herat and Mazar-e-sharif have also started issuing visas to Afghan nationals in their respective jurisdictions," the Pakistani embassy in Kabul said.
"Under the new visa policy, long term multiple visas are being issued to the Afghan nationals for visiting Pakistan for medical treatment, family matters, business, education and other purposes," the embassy said.
"As the visa facility has opened recently after many months of restrictions due to COVID-19, there is a significant backlog causing large crowds of visa applicants at the embassy's and consulates' windows. The embassy seeks the understanding and cooperation of the applicants as well as the Afghan security authorities for ensuring effective management of the submission and collection of visa applications with a view to hopefully clear the backlog in the coming days," the Pakistani embassy said.  (Tolo News)