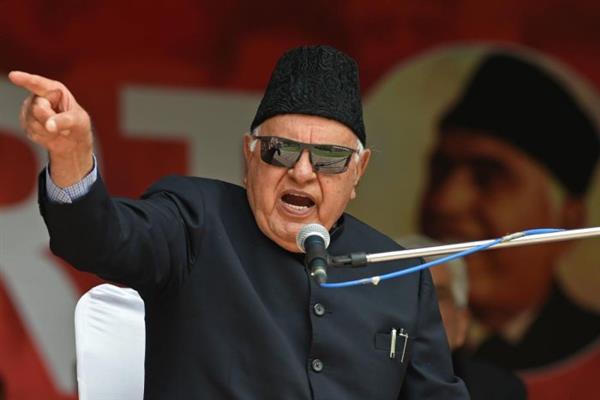 Srinagar, Oct 19: National Conference president Dr Farooq Abdullah was Monday questioned for seven hours by the Enforcement Directorate (ED) in Srinagar regarding the alleged multi-crore J&K Cricket Association scam.
The NC president didn't get the time to have lunch. Talking to reporters after spending seven long hours at ED's Srinagar office, Dr Farooq said "let ED do its jobs and I will do my job."
"This is not a new thing. They have been doing it. Earlier it was in Chandigarh. I am quite clear. I will always face them (ED)," the NC chief told media men.
"My fate will be decided by the court when they would put the case into the court. I couldn't have lunch today. There was no time. I couldn't get my lunch here."
Asked whether he was summoned because of the formation of peoples' alliance for Gupkar declaration, Dr Farooq said that "don't bring Gupkar declaration in to this."
On whether the questioning was regarding J&K Cricket Association scam, he said: "Apko kya chati padi hai (why are you bothered. Ask them (ED)."
Replying to a query whether ED summon and questioning of seven long hours would weaken his resolve for fight seeking restoration of Article 370 back, Dr Farooq said that it wasn't his resolve alone. "We have a long way to go, a long political battle that will continue. This is the resolve of people of Jammu and Kashmir. This will continue whether Farooq Abdullah is dead or alive. Our resolve will never change even if I am hanged."
To a query that his son Omar Abdullah and PDP chief had termed the ED summon to him as political vendetta, Dr Farooq said: "I have nothing to say on that."
Pertinently, the NC chief was summoned today by ED at 11 am today. He was let go at 5 pm after facing seven hours of questioning. The NC president, however, said ED sleuths were "nice sober and friendly to him." Reliable sources told KNO that Dr Farooq was questioned regarding multi-crore JKCA scam—(KNO)