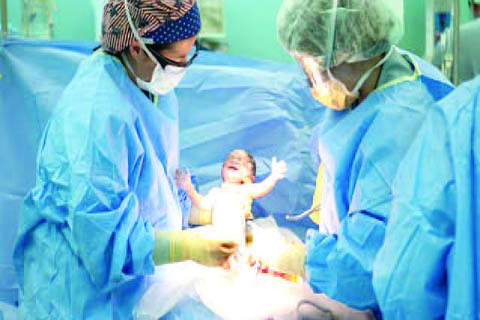 Srinagar, Sep 30: In a worrisome development, Kashmir has witnessed over 42 percent Lower Segment Caesarean Section (LSCS) deliveries in various hospitals associated with Directorate of Health Services Kashmir (DHSK) and different Government Medical Colleges (GMCs) of the region in five months.
In various Community Health Centers (CHSs), Sub-District Hospitals and other medical institutions of Kashmir Valley, at least 20,329 deliveries were carried out from April-01 to August 31, 2020.
Official figures available reveals that of the total 20,329 deliveries carried out in five months, at least 8,677 were conducted through LSCS (C-Section) while 11,652 deliveries were carried out normally.
The figures further state that over 42.68 percent out of the total were C-Section while 57.31 percent were normal deliveries.
This information was revealed by the Public Information Officer (PIO) of DHSK in a reply to the queries of a Right to Information (RTI) application filed by the rights activist M M Shuja.
The officials said that the South Kashmir's Kulgam and Pulwama districts were worst affected wherein more C-Section deliveries were carried out against the normal deliveries.
In South Kashmir's Anantnag district, a total of 4,711 deliveries were carried out in five SDH and other medical institutions associated with GMC Anantnag. Of total 4711 deliveries, 1870 were C-Section and 2841 were normal deliveries.
Similarly, in Bandipora district, a total of 1228 deliveries were carried out that includes 283 C-Sections and 845 normal deliveries.
Likewise, north Kashmir's Baramulla district recorded a total of 2760 deliveries including 970 C-Section and 1790 normal deliveries.
As per KNO, Central Kashmir's Budgam district also recorded a total of 2046 deliveries that includes 1084 C-Section and 962 normal deliveries.
In Ganderbal district, a total of 563 deliveries were carried out including 168 C-Section and 395 normal deliveries.
Similarly, the Kulgam district witnessed a total of 2280 deliveries that includes 1231 C-Section and 1049 normal deliveries.
The frontier district Kupwara recorded a total of 3644 deliveries that includes 902 C-Section and 2742 normal deliveries.
In South Kashmir's Pulwama district, 1936 deliveries took place during this period that includes 1385 C-Section and 551 normal deliveries.
The Shopian district also witnessed a total of 823 deliveries during April-August 2020 including 424 C-Section and 399 normal deliveries.
Official figures reveal that in Srinagar's JLNM hospital, Gousia hospital and other institutions recorded a total of 338 deliveries that includes 260 C-Section and 78 normal deliveries—(KNO)