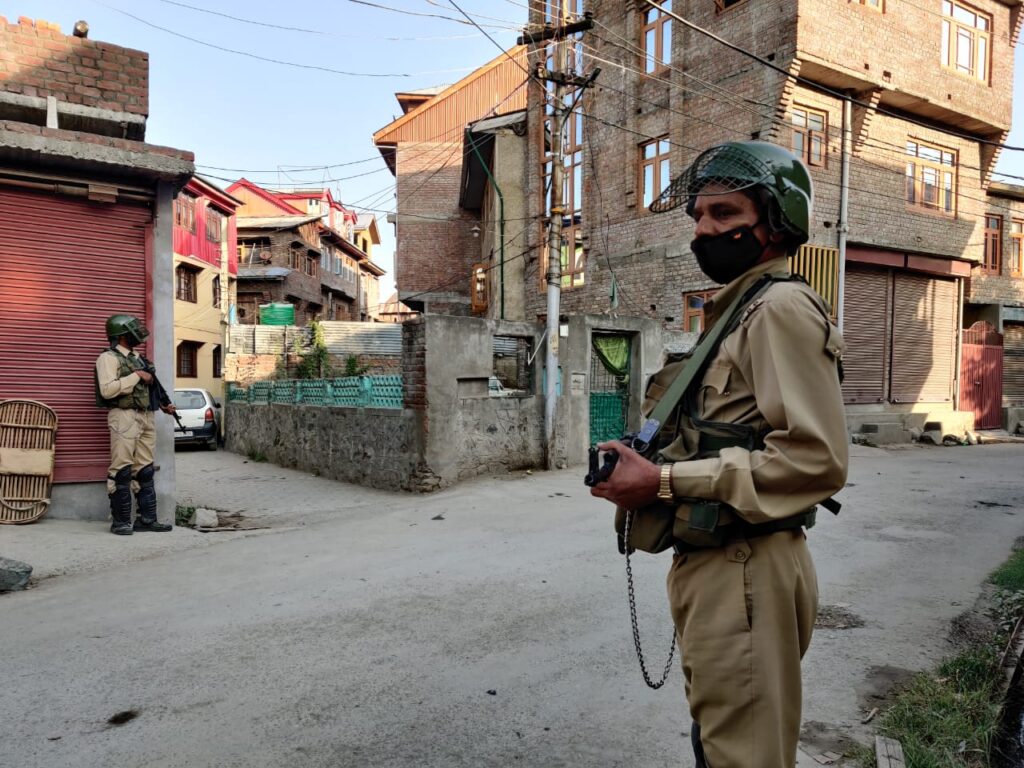 Srinagar, September 17: Four persons including three militants and a woman were killed while a deputy commandant rank officer was critically injured during a gunfight in Batmaloo area of Srinagar.
A joint team of Police and CRPF launched a cordon-and-search-operation in Batamaloo.
As the team encircled the suspected spot, the hiding militants fired upon them. The fire was retaliated by the joint team, triggering off an encounter.
A senior police officer , a lady identified as Kounsar Riyaz, 45, of Batamalo received bullet wound during cross firing, and she was immediately shifted to Police hospital, where doctors declared her brought dead.
He further said a Deputy commandant of CRPF also received bullet wound and was subsequently shifted to 92 Base hospital for treatment.
The Inspector General of Kashmir, Vijay Kumar said that three militants were killed in an encounter in Batamaloo area.
DGP speaks
Addressing a press conference at Police Control Room (PCR) Srinagar, DGP Singh said that early morning, joint teams of police and CRPF while acting on a lead zeroed in on a house where three militants were hiding. "They were given a chance to surrender but they refused and fired.
One CRPF officer and another CRPF man sustained injuries in the initial exchange of firing. The officer is critical and we are praying for his recovery," the DGP Singh.
He said that the forces conducted the operation in a professional manner and killed all three militants.
"However,  a woman was caught in the cross firing. Her killing is very unfortunate and we express sympathy with the bereaved family," the DGP Singh said.
He was flanked by IGP Kashmir Vijay Kumar and new IG CRPF Srinagar sector Charu Sinha. The slain woman was identified as 45-year-old Kousar Jan.
About the identification of the three slain militants, the DGP Singh said that all three were local militants from South Kashmir. "Arms and ammunition was recovered from them," he said.
He said that militants from other districts of South and north Kashmir keep on visiting Srinagar to carry out attacks on security forces. "On August 14, they targeted our party and killed two policemen at Nowgam. Before that, they had killed two BSF men at Pandach on city outskirts. And then they made another attempt at Pantha Chowk where we lost a brave SoG man," the DGP Singh said.
He said police and CRPF teams are alert and whenever they get a lead about presence of militants in Srinagar, efforts are always put in to ensure zero collateral damage.
"Today's operation was seventh one in Srinagar in the recent past, but biggest success was the killing of Hizbul Mujahideen commander Junaid Sehrai," the J&K Police chief said.