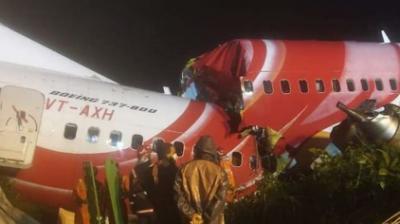 Srinagar, August 08: Around 18 persons were killed after Air India Express plane crashed in Kozhikhode on Friday night.  
According to the media reports the dead include two pilots as well while it is being reported that plane crashed after overshooting the runway.
Among the 18 dead include seven women and eight children. All of the victims have been identified.
The officials said 149 persons have been hospitalized among whom 23 are reported to be in critical condition.
191 people including 10 infants, 2 pilots and 5 cabin crew members were onboard the aircraft.
DD news reported that the Dubai-Kozhikode Air India Express flight fell 35 feet from the hilltop runway after landing at Karipur Airport and broke down in two pieces.
"While the two pilots are among the dead, four-cabin crew members on board the aircraft are safe. It is believed that heavy rains in Kerala could be one of the reasons behind the mishap. Civil Aviation Minister Hardeep Singh Puri said, two investigation teams of professionals from Air India, Airports Authority of India and Aircraft Accident Investigation Bureau have been rushed to Kozhikode," DD news report said.
Kerala government has also announced 10 lakh rupees each as solatium to the kin of those deceased in yesterday's accident at the Calicut International Airport, DD news report added.