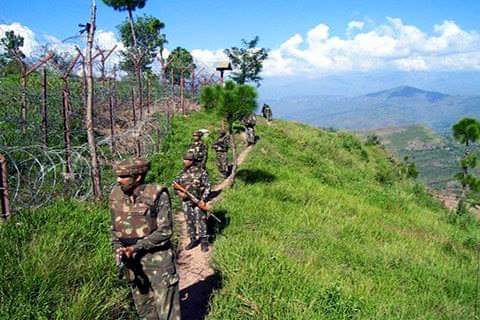 Baramulla, Aug 07: India and Pakistan armies on Friday exchanged intense fire along the LoC in  Boniyar area of Baramulla district.
Officials said that Pakistani troops used heavy mortar shelling and targeted check posts in Boniyar and other posts in Baramulla district on Friday morning.
Indian troops guarding the LoC retaliated befittingly. "Exchange of fire was going on till this report was being filed.
Senior Superintendent of Police (SSP) Baramulla Ab Qayoom said shelling is going on both sides along the line of Control in Boniyar, Baramulla. However there was no immediate  report of injuries or casualties. (KNO)
KNT adds:
The troops of India and Pakistan exchanged heavy gunfire and artillery across the line of control (LOC) in Jabdi Sector of Karnah area here in North Kashmir's Kupwara district on Friday.
Sources said that massive shelling is going on between the armies of India and Pakistan at Jabdi Sector in Shararat Tolipost area.
Defense sources said that Pakistani troops violated the ceasefire and targeted different Indian army posts, which were retaliated to professionally. They said Pakistani troops also fired artillery due to which a war-like situation was created in the sector.
Locals said that the heavy cross-border firing created among the residents and they ran towards safer places while some shifted their children to other areas.
Locals said that both the armies not only fired mortars but targeted each other with heavy artillery. "Loud explosions were heard," said a local.