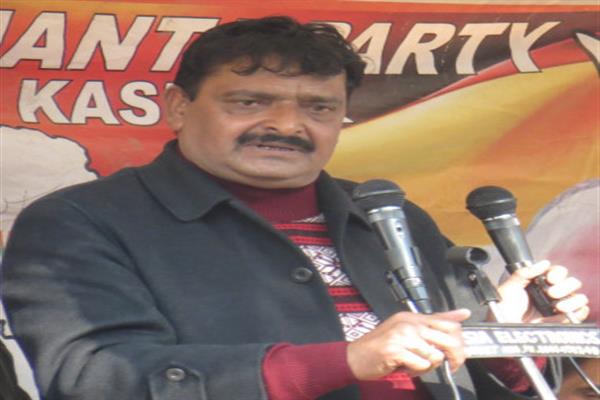 Srinagar, August 06: Responding to attacks by militants on party leader, BJP J&K vice-president Sofi Yousuf termed it as a "big loss" for the party and said it is impossible to terrorize BJP by violence as no power can stop Lotus blooming in Valley.
He  said though the killings are "big loss" for the party, adding, he was hopeful that newly appointed LG Manoj Sinha will take a call for providing adequate security to BJP leaders in Valley.
Yousuf said former LG Murmu had a bureaucratic mindset and could not understand the need of security cover to BJP leaders in Valley but I am hopeful that upcoming LG Sinha will positively do some favor as he had been himself a politician with great acumen and can understand the need of security in volatile situation.
"The outgoing LG Murmu didn't know the political set-up of Kashmir during his tenure as he had a bureaucratic mindset. But we hope that the upcoming LG Manoj Sinha will do a favor in this regard and provide an will take concrete measures for safeguarding the lives of political leaders and activists", Sofi Yousuf said.
Hitting out at Pakistan, Yousuf said that several forces don't want to spread BJP across Valley and for this they want to create fear psychosis on the ground. "Pakistan is trying to sabotage the mission of BJP. It is why militants are killing our workers",, he asserted.
"Pakistan can't terrorize BJP through violence. Lotus has to bloom in Valley and no power can stop it", he added.
Earlier in the day, suspected militants shot dead a BJP Sarpanch namely Sajad Ahmad Khanday at Vessu village in Qazigund block of south Kashmir's Kulgam district. The attack was the second of its kind in less than 48 hours as a BJP Panch Arif Ahmad was critically injured after militants fired upon him at Akhran Qazigund on the evening of August 4. (KNS)