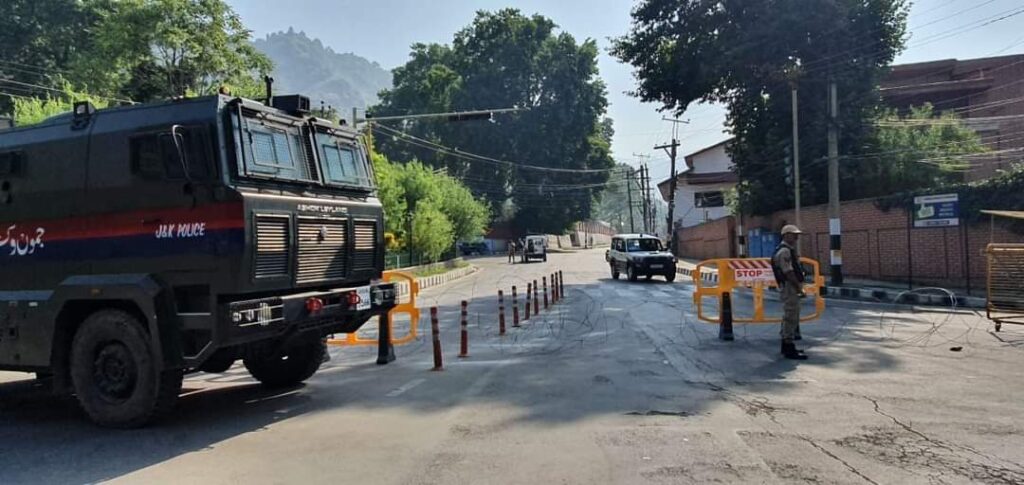 Srinagar, Aug 5: On the eve of the first anniversary of the revocation of special status to Jammu and Kashmir, authorities virtually imposed 'undeclared' curfew that hit life badly on Wednesday.
Majority of the political leaders were put under house arrest while lower rung leaders were either arrested or barred from coming out from their houses. Authorities had sealed city centre Lal Chowk while Gupkar was made out of bounds for people.
Former Chief Minister Omar Abdullah said that it was hypocrisy on part of the government to allow BJP workers assemble together to celebrate this day and barring 'mianstream' leaders to meet at one place.
Concertina wires were laid at different intersections while some roads were closed. Security was beefed across Srinagar to foil the protests. PDP had announced that it will mark the day as Black Day and will hold protests. PDP office in Srinagar was sealed and no one was allowed to visit that office. Same was the case with the National Conference office located near Zero Bridge Srinagar.
Pertinently, the National Conference had said that August 5 "is the darkest patch in the history of J&K marking the forcible, illegal and unconstitutional infringement of the rights of its people saying the party will fight the battle for the restoration of people's rights peacefully and legally". Saying the actions of August 5 last year were an "undemocratic onslaught on the rights and honour of the people of J&K."
Other political parties had also talked in the same tone. Eyewitnesses said that at some places BJP activists assembled together to celebrated the anniversary of Article 370 abrogation.
A police official said that day passed off peacefully across Kashmir. (KNT)