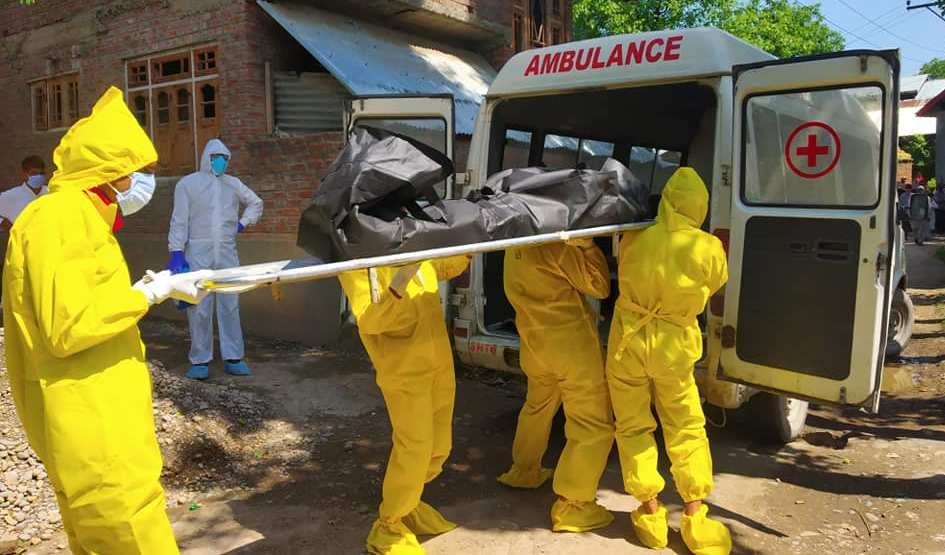 Srinagar, July 27: Seven persons succumbed to covid-19 in Kashmir in last 24 hours, taking the fatality count due to the virus in Jammu and Kashmir to 321, officials said on Monday.
Official sources said that among the deaths reported includes a 58-year-old man from Kulgam, a 65-year-old from Budgam, three men, aged 60 years each, from Buchpora, Hawal and Bemina respectively, a 48-year-old woman from Nowshera, and a 69-year-old man from Safakadal who was admitted to SMHS hospital on July 24 besides a 65 year-old-man from Sheikhaar and a 85-year-old man from Puwlama.
Most of them, they said, were suffering from community acquired pneumonia besides underlying ailments.
Regarding octogenarian, they said, he was a resident of Somboora and was admitted to SMHS hospital on July 23.
Regarding Kulgam case, they said, the patient was "known case of  HTN T2DM WITH B/L  CAP" while Buchpora one was suffering from "HTN T2DM" and "a case of hypothyroid with B/L CAP."
So far 298 deaths have been reported in Kashmir and 23 in Jammu division.
Srinagar district with 88 deaths has the highest fatalities followed by Baramulla (63), Kulgam (26), Budgam (23), Anantnag  (21), Shopian (20), Pulwama (19), Kupwara (17), Jammu(15),  Bandipora (9), Ganderbal (6), two each in Rajouri and Doda and one each in Poonch, Udhampur, and Kathua. (GNS)