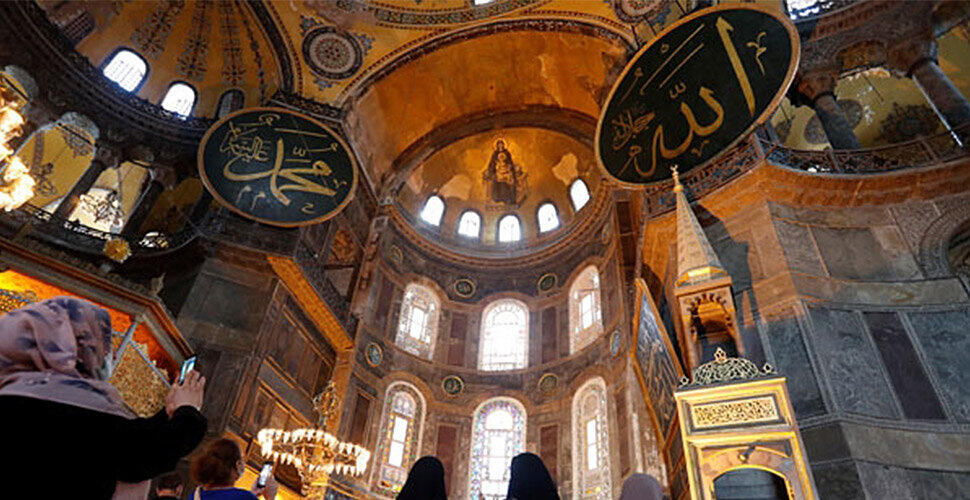 Srinagar, July 24: The Friday prayers were held at the iconic Hagia Sophia- the known land mark of Istanbul- for the first time after 86 years.  
The prayers were held following the court ruling which allowed the Hagia Sophia to be turned back into the Mosque after 86 years.
Apart from thousands of people who have converged to Hagia Sophia to witness the historic day, Turkish President, Recep Tayyip Erdogan, accompanied by cabinet minister, and government officials joined the hundreds of worshippers to offer the first Friday prayers.
According to Al Jazeera, five times prayers will be held daily at the mosque now onwards.
"We are ending our 86 years of longing today," said one man, Sait Colak to Aljazeera, referring to the nearly nine decades since Hagia Sophia was declared a museum and ceased to be a place of worship.
"Thanks to our president and the court decision, today we are going to have our Friday prayers in Hagia Sophia."
Hagia Sophia is among Turkey's top tourism destinations for both domestic and foreign visitors, according to Turkey's Anandolou agency.
In 1985, during its time as a museum, Hagia Sophia was added to the UNESCO World Heritage List.
It served as a church for 916 years until the conquest of Istanbul, and a mosque from 1453 to 1934 – nearly half a millennium – and most recently as a museum for 86 years.
Andolou reported that on July 10, a Turkish court annulled a 1934 Cabinet decree that had turned Hagia Sophia into a museum, paving the way for its use again as a mosque after an 86-year hiatus.
On July 16, Turkey's Religious Affairs Directorate signed a cooperation protocol with the Culture and Tourism Ministry to run Hagia Sophia after its conversion to a mosque, the news agency reported.