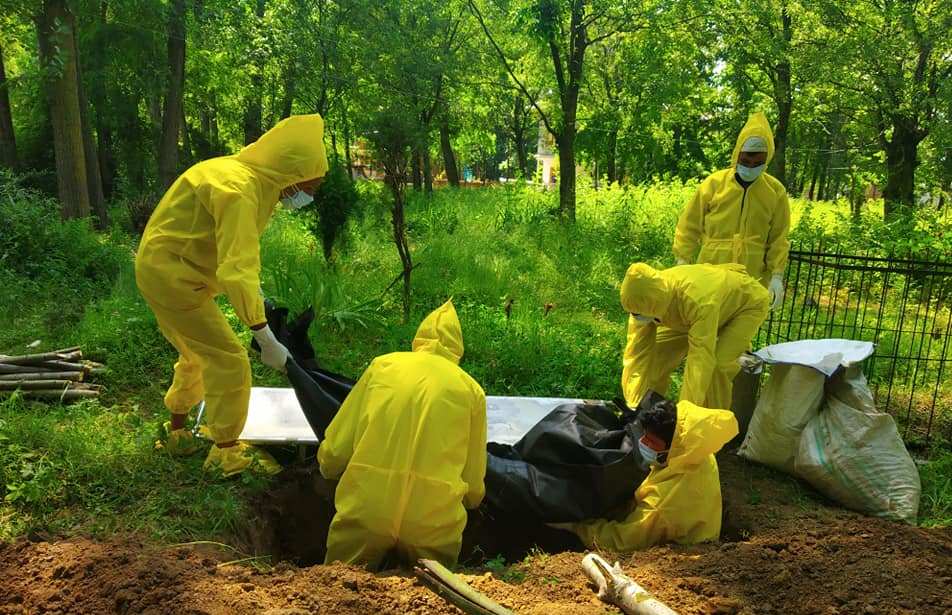 Srinagar, July 16: Kashmir Valley reported fourteen more covid-19 related deaths , taking the fatality count due to the virus to 222, officials said on Thursday.
Officials said that five deaths were reported from Srinagar, four from Baramulla, two from Kupwara and one each from Pulwama and Budgam.
Two of the fatalities reported from SKIMS Soura include a 65-year-old man from Khajabagh Baramulla and his age-mate from Serhama Anantnag. The other one pertains to a 60-year-old woman from Sanbari Kokernag whose covid-19 positive test was confirmed, three days after her death at GMC Anantnag.
Regarding the sexagenarian from the north Kashmir district, a senior doctor at SKIMS said that he was admitted on July 7 as a "case of bilateral CAP (community acquired pneumonia), Type 1 Respiratory failure and severe ARDS."
Having hypertension as comorbidity, the covid-19 patient died at 6:40 a.m. due to "cardiopulmonary arrest," the doctor said.
Regarding the 65-year-old man from Serhama Bijbehara, the doctor said that he had multiple problems.
Meanwhile, as regards the sexagenarian from Sanbari Kokernag, official sources said that her sample was taken on Jul 10 and returned positive late last night. A family member said that number of people participated in her 'Ghusl' while hundreds participated in funeral prayers.
"She died at around 11 p.m. on July 13 and we took body other day. A number of people participated in 'Ghusl' and several hundred people took part in her funeral," the family member said, adding, "Neither anyone at GMC Anantnag nor any official from the district told us to follow covid-19 related guidelines. We are illiterate. Now we have been told there would be testing of family members." The other deaths took place during the course of the day .
With these deaths, 204 people in Kashmir and 18 in Jammu have died so far due to the covid-19.
Srinagar district with 55 deaths has the highest fatalities followed by Baramulla (48), Kulgam (23), Shopian (17), Anantnag (17), Budgam (16), Kupwara (13), Jammu (11), Pulwama (7), Ganderbal (4), Bandipora (3) and Doda (2) while one death each has been reported from Poonch, Udhampur, Rajouri, and Kathua. (GNS)