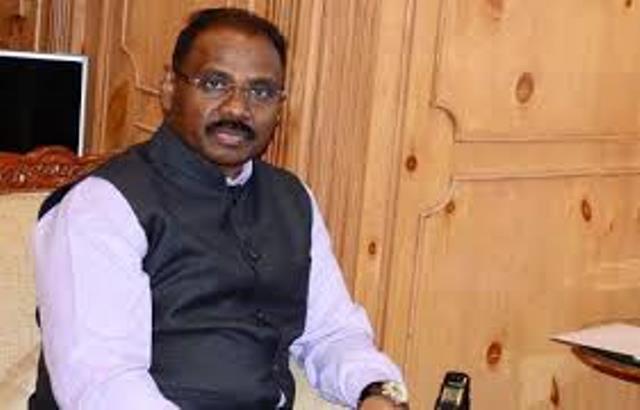 Srinagar, July 13: Lt Governor Murmu on Monday said that newly framed media policy was not anti-media.
He also said that media should play a positive role and make Govt accountable.
On being asked about the criticism by journalists for not consulting them before formulating media policy, he said;
"This was reported in media. We will deliberate and discuss this. There is nothing like anti-media policy. Neutrality has been maintained in the policy. There is clearly written about the qualification for renewal, accreditation. Media has an important role everywhere in the World. Media should always play a positive role for betterment of people and make Government accountable."
Regarding the allegations that development is not taking place even after one year after the nullification of Article 370 which is almost nearing a year, he said, "Development works are going on. We have completed 40 % of languishing projects pending since 2012 in one year only. We are now inaugurating these projects. Power and road macadamization is going on in a big way. For two-three months there was a shortage of labourers and contractors. Now development is going on in full swing and can be witnessed on the ground."
When asked about the security cover being provided to  political representatives, he said, "Security is important for all people not only for Panchs and Sarpanchs. We are working on providing security to Panchs and Sarpanchs through a different scheme".
"The threat perception of Panchs and Sarpanchs is being reviewed continuously and wherever required security is provided accordingly. It is the job of the Government to provide security to the public," he said.
Calling the Bandipira killings unfortunate and blamed misguided people for these killings, he said "I condemn this accident and we will keep trying to provide security to all people," he said.
Lt Governor informed that he has started mass public contact programme in all districts where all groups of people can raise their issues for early redressal while maintaining covid19 SOP, "We will also check on-going public projects in these areas."
Lt Governor said that Government will soon advertise more than 20000 to 25000 vacancies.
"We have already advertised 10,000 vacancies. A committee was formed for speeding up the process."
While thanking the people of J&K for their support to the administration, Lt Governor assured people of J&K that the government will ensure more development than the expectations of people.
"My only expectation with people is to maintain peace and cooperate with administration. I assure them of accountable, efficient and clean administration in J&K," Murmu said.
"The Coronavirus spread threat is still intact. The Spike phase of coronavirus is going on. I appeal to people to follow all guidelines strictly- maintain social distancing, wear masks and come out of their house only when necessary" he said.
He said that every person has to take precautions to keep not only themselves safe but for the safety of elderly and children at home.
"Safety and precautions is the only mantra to keep safe from the disease. People should also take care of personal hygiene and have immunity medicines which we distributed through AYUSH. Arogya application should be downloaded in mobile phones so that it gives an idea about the health of a person."
Lt Governor appealed the religious leaders to repeat their appeals to the people for self-control in these difficult times so that we can win the war against this deadly disease. (KNS)