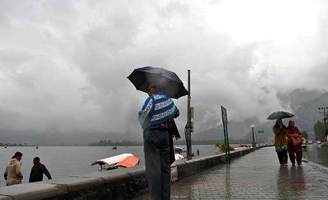 Srinagar, June 22: Weatherman on Monday predicted scatter to widespread rains in Jammu and Kashmir this week.
"There would be light rainfall on tomorrow but widespread rains on June 24 and 25 besides fairly widespread rains on June 26 and scattered rains for subsequent few days," an official of the MeT department said.
The official said that Srinagar recorded maximum of 32.2 degree Celsius against 29.2 degree Celsius during this time of the year while Jammu recorded 37.1 against 38.1 degree Celsius normal.
Meanwhile, the weatherman also issued a "yellow warning" for isolated thunder squalls with lightning and gusty winds (30-40 Kmph) in Jammu from tomorrow till June 26. For Valley, it issued similar warning from June 24 till June 26.
There are four types colour codes signifying the level of caution: green (which means no action), yellow (situation to be watched), amber (government agencies need to be prepared for severe weather), and red (action needed by the agencies). (GNS)