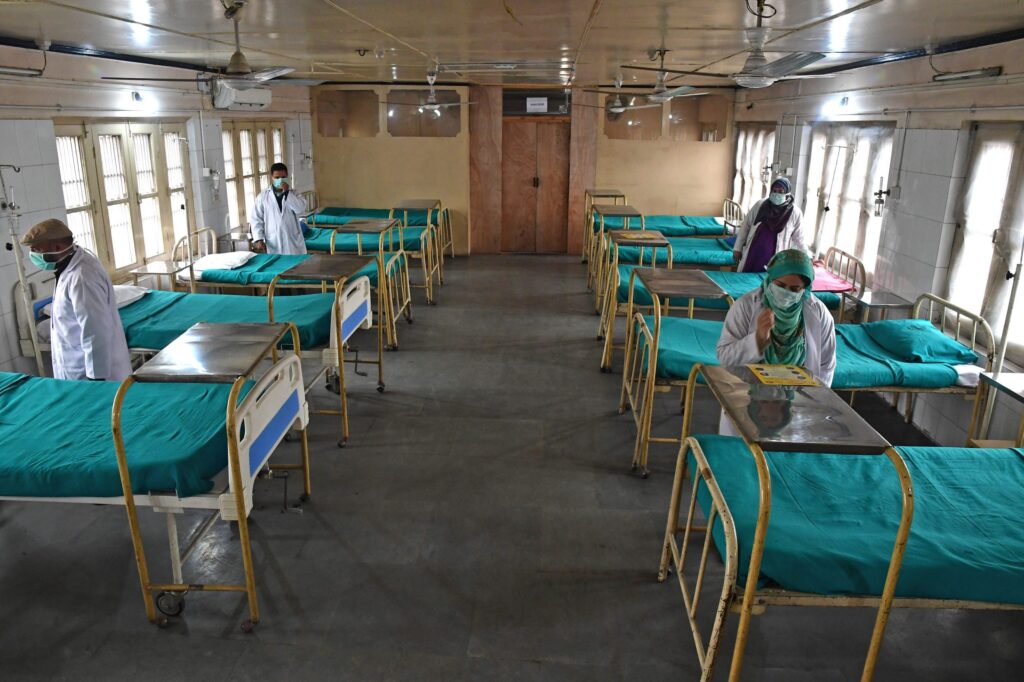 Srinagar, June 08: At least 198 new positive cases of novel Coronavirus cases were reported  while five people lost their lives to the deadly virus in a day in Jammu and Kashmir
According to the goverenment news bulletin, 33 COVID 19 cases were reprted from Jammu division and 165 from Kashmir division, have been reported today thus taking the total number of positive cases in Jammu and Kashmir to 4285. Also, 04 COVID-19 deaths have been reported from Kashmir division.
Moreover, 108 more COVID-19 patients have recovered and discharged from various hospitals, 12 from Jammu Division and 96 from Kashmir Division.
According to the daily Media Bulletin on novel Coronavirus (Covid-19), out of 4285 positive cases, 2916 are Active Positive, 1324 have recovered and 45 have died; 05 in Jammu division and 40 in Kashmir division.
The Bulletin further said that out of 227906 test results available, 223621 samples have been tested as negative till June 8, 2020.
COVID 19 claims five lives in a day:
Jammu and Kashmir on Monday reported five deaths due to covid-19, taking the death toll due to the virus in J&K to 46.
Dr Nazir Choudhary, medical superintendent SMHS hospital, that the 70-year-old woman from Baramulla, admitted on June 6, died this evening.
"She had bilateral pneumonia," he said, adding, "Her body has been kept in mortuary and would be handed over toe the family as per covid-19 protocol."
Earlier, he said, 55-year-old covid-19 patient, a resident of Pampore in Pulwama district, died of "pneumonia among other underlying ailments".
A 65-year-old man from Handwara died at Chest Disease (CD) hospital here, eleven days after he was admitted to the facility, one of the exclusive institutes meant for the management the Covid-19 patients in Kashmir Valley.
Dr Salim Tak, Medical Superintendent CD hospital, said that the covid-19 positive sexagenarian had multiple underlying ailments and died this afternoon. With the fatalities, the number of the people succumbing to the virus in J&K has gone up to 45.
Last night, a 40-year-old paramilitary CRPF trooper and a 35-year-old resident of Khaniyar Srinagar died at two hospitals here.
Confirming the death of the paramilitary trooper, Professor Farooq Jan, Medical Superintendent SKIMS said that the swab samples of the personnel, a resident of Uttar Pradesh, was taken on June 5 which subsequently returned positive for the pathogen.
"He expired on June 7 due to cardiopulmonary arrest. The Patient was diagnosed with ARDS (Acute respiratory distress syndrome)," he added. Sources said that the personnel was posted with CRPF's 90 Battalion at Uranhal Anantnag.
Meanwhile, a 35-year-old man from Miskeen Bagh Khaniyar died last night at CD hospital, hours after he was shifted from SMHS hospital after he tested positive for the virus, Dr Salim Tak said.
"He was admitted in SMHS hospital. Soon after his swab sample returned positive for the covid-19, he was shifted to CD hospital where he died," he said.
So far Srinagar district with 12 deaths due to the virus has the highest fatalities, followed by Baramulla eight, Anantnag six, Kulgam four, three each in Shopian, Kupwara and Jammu, two in Budgam while one death each has been reported from Pulwama, Bandipora, Doda and Udhampur.