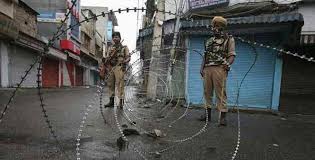 Kupwara, May 20 (GNS): As government has barred all religious functions and congregations besides ordering closure of all places of worship for public till the end of this, the administration in this north Kashmir district on Wednesday ordered complete restrictions from 6 a.m. on Thursday till 6 p.m. on May 25.
As per as an order issued by the Deputy Commissioner Kupwara, a copy of which lies with GNS, the concerned Tehsildars and Naib tehsildars have been ordered to act as duty magistrates within their respective jurisdictions to enforce the "strict lockdown" in letter and spirit.
"SHO concerned shall ensure announcement via loud speaker mounted vehicles in the jurisdictions to ensure strict compliance and no assembly of people anywhere in the district."
SHO Handwara has been directed to deploy nakas round the clock on both entry points from Baramulla and Sopore to strictly implement the instructions.
However, three categories have been exempted including government officers and officials carrying valid identity cards, ambulance and vehicles carrying patients with valid referrals issued by medical officer or BMO and movement of essential commodities and medicines including home delivery services with valid passes issued by the office of the deputy commissioner. (GNS)