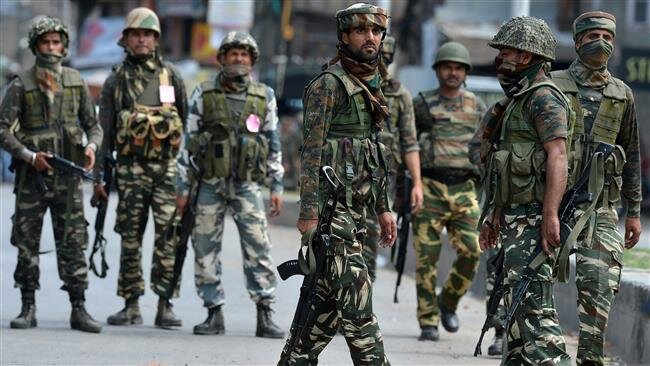 Srinagar:  Indian troops have offered Pakistani Army to retrieve bodies of their nationals who were killed by the security forces when they were attempting to infiltrate into this side in Keran sector at the Line of Control (LoC) on Saturday, a defence ministry spokesperson said on Sunday.
We have offered them (Pakistan Army) to take away the bodies, clearly visible near the LoC in Keran sector in the frontier district of Kupwara, Col Rajesh Kalia said, added that there was still no response from the Pakistan Army so far.
He said a number of attempts were made by Pakistan to disturb peace in the Kashmir valley and target pilgrimage to holy Amarnath cave shrine in south Kashmir Himalayas. The Yatra, which was scheduled to end on August 15, has been suspended in view of the militant threat. Large cache of arms and ammunition, including Sniper rifle, Improvised Explosive Device (IED) and a mine with Pakistan marking were also recovered. This, he said, clearly indicates complicity of Pakistan in militant activities in the valley.
Col Kalia confirmed that an attempt was made by the Pakistan's Border Action Team (BAT) on one of the forward posts in Keran sector. However, alert troops foiled the attempt and killed five to seven Pakistani regulars and militants. Four bodies of BAT personnel were later spotted near the LoC and last evening Pakistan troops were offered to retrieve them for conducting their last rites.
Col Kalia said four Jaish-e-Mohammad (JeM) militants were killed in two separate operations in Shopian and Sopore in Baramulla district on Saturday. Meanwhile, a soldier was also martyred and two others injured in these operations.
A large number of trained militants are waiting at launch pads near the LoC in Pakistan Occupied Kashmir (POK) to sneak into this side before the routes are closed due to heavy snowfall. However, he said, security forces will continue to respond to all nefarious activities along the LoC and hinterland.