At least seven people were reportedly killed and three injured in separate rain-related incidents as torrential rain continue across Pakistan.
According to rescue sources, one woman along her one-year-old boy lost their lives as rainwater flooded their house's basement in Rawalpindi. Another young boy drowned while swimming near the Sehala Bridge, Express Tribune reported.
Separately, a couple in Lahore was killed while three other people sustained injuries in a house collapse incident at Leel village at Ring Road.
Water level in Nullah Lai in Rawalpindi rose after continuous rain last night; however, it receded to low level later.
Railways Minister Sheikh Rasheed Ahmed visited Nullah Lai and directed the district administration and rescue agencies to remain alert.
Two tourists were feared dead and thousands of others were stranded in Naran after heavy landslide disconnected the area.
According to the reports, thousands of visitors were stuck in Naran when the land sliding caused by torrential rains blocked the Jalkhand-Naran road in Mansehra on Thursday evening.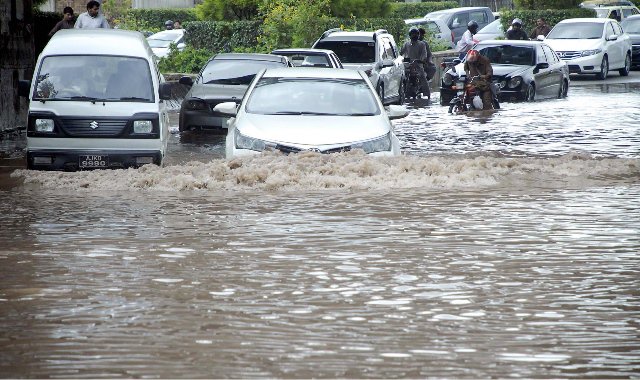 Some of the tourists called local Urdu TV channels and said that they had to spend last night in their cars on the road and were facing a shortage of supplies.
"We are facing an extreme shortage of food, especially milk for children. Some people are suffering from high fever but we could not get any way out to send them to a hospital," said a tourist.
A couple was killed after their car was buried under the debris of the landslide on the road, the reports said.
K-P Information Minister Shaukat Yousafzai said that the government will use helicopters to provide the tourists with food and shift the sick to a hospital.
"Heavy machinery have already been dispatched to the area to clear the road, but it will take a long time as the road is blocked at several points," the minister added. According to the assistant commissioner Balakot, rescue agencies have been alerted and delivering food to the travelers is a top priority but due to the difficult terrain and road closures access to the site was difficult.
According to Pakistan Meteorological Department, the current rain spell is expected to last till Saturday.
National Disaster Management Authority Spokesperson Brigadier Mukhtar Ahmad said riverine flooding is expected in the Indus, Chenab and Ravi rivers due to the recent rains.
He warned people living near the river bank to remain alert of any untoward situation. He said people are also being evacuated from the areas wherever required.
Brigadier Mukhtar Ahmed said NDMA, Rescue 1122, WASA and police have been put on alert for quick response to any emergency of rain-caused flood situation.
The NDMA spokesman said the current weather system, which came from the Arabian Sea, is affecting Kashmir, Gilgit-Baltistan, Rawalpindi, Islamabad and Lahore regions.
He said from Friday, another weather system will emerge from the Arabian Sea, which will affect Karachi and Balochistan.