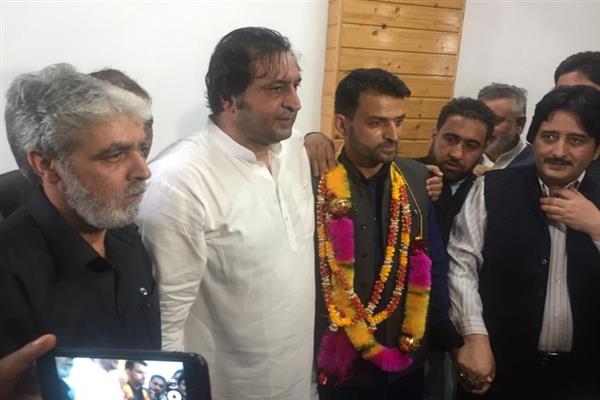 Srinagar: Peoples Conference (PC) leader Sajjad Lone Thursday said that solution to all issues lies in a dialogue process and hard measures can only contain a problem and not resolve it.
"History is witness that no issue could be settled without a dialogue. When you take hard measures, you can contain a problem and not resolve it. Containment means the disease is there," he told reporters.
On the reports of US mediation to settle Kashmir issue, Lone said, "It is an international issue. Everybody knows that New Delhi will never agree on third party intervention. Whether third-party mediation or bilateral dialogue between India and Pakistan, either of the two are welcome steps rather than communicating to each other through violence. The best form of civilised way of resolving conflict would be to sit across the table and solve problems."
Earlier, while addressing party workers, the PC chief said, "The destruction which has happened in the last 40 or 70 years on Article 370 need to be answered. Let National Conference answer who eroded internal autonomy and diluted Article 370. It was Congress and the NC which are responsible for the erosion of autonomy of the state."
"On July 13, I saw (NC President) Farooq sahib showering flowers at Martyr's Graveyard (at Naqashabnd Sahib) on the graves of 1931 martyrs. I salute 1931 martyrs. But let Farooq sahib and NC answer whether people who were killed during NC rule from 1996-2002 and 2008-2014 were martyrs or not. Either he (Farooq Abdullah) should shower flowers on the graves of all the martyrs or none. He can't have dual standards," he added.
A spokesperson of the PC said on the occasion NC's ex-incharge Charar-e-Sharief Assembly segment, Mushtaq Ahmad along with his 300 supporters joined the party.