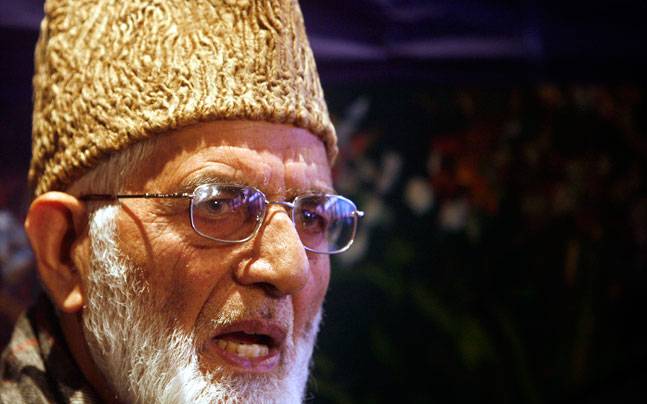 Srinagar: Chairman Hurriyat Conference (G) Syed Ali Geelani on Friday reacted to the Prime Minister Narendra Modi's statement that 'Had Patel been PM, Kashmir would have been resolved' saying historical facts cannot fade away by denying.
Geelani in a statement said Modi through this statement "subconsciously accepted that Kashmir is an unresolved issue and its fate is yet to be decided".
"Not only the whole world but United Nations itself is signatory to its (Kashmir's) disputed nature and people of Jammu and Kashmir have unanimous stand that this dispute should be resolved peacefully once and for all," Hurriyat (G) chairman said.
He said "Prime Minister of a voluminous country indirectly acknowledging the fact proves that historical realities cannot be brushed aside even by the military might, brute force or repeated denial for decades together."
"On one hand, disputed nature of the issue is accepted and on the other, those who stand by same version and fight for its resolution are killed, jailed, maimed, tortured, raped and suppressed," he said.
The rulers of Delhi should honour and respect the promises of their leaders and shun "rigid and unrealistic" attitude, Geelani said, adding, "Our three generations have lived a suffocated and fear-filled life and now fourth generation is forced to take the same path."
"If this long-pending dispute is again put to backburner and left to simmer in the continued bloodbath, a nuclear collision in wanting can be so catastrophic that neither habitat nor the boundaries will be sufficient to prove the integrity and sovereignty of the regions," Geelani said.
Meanwhile, Geelani expressed shock and sadness over the tragic accident at Mughal Road where about a dozen students lost their life.
Although death has a fixed date and time and every life has to perish, but such tragedies are unfortunate and shocking, Geelani said and prayed for eternal peace to the departed souls and wished the injured speedy recovery. He also expressed condolence with the bereaved families to bear the irreparable loss.