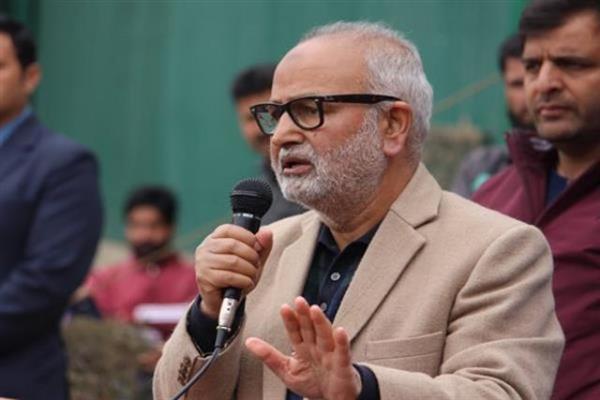 Srinagar: Peoples Democratic Party (PDP) senior leader and former minister Naeem Akhtar on Sunday termed the PDP as only consistent voice that seeks an end to the problems being faced by the people of the state.
Interacting with party workers and civil society members in north Kashmir's Bandipora, Akhtar said that whether in power or out of power, the PDP has been consistent in seeking the resolution of Kashmir and that the party believes that the Constitution of the country has enough room to accommodate the aspirations of the people and protect their identity as guaranteed by the constitution itself. "We will continue to do that and also to bring out the state from the state of artificial siege that we have found ourselves in for the past seven decades," Akhtar said.
The PDP leader added that the party will bounce back in a revitalised form on the state's political scene and that it will continue to push for peace with dignity which is the focal point of its agenda. He said that the workers are committed to the agenda of the party and the vision provided by its founder Mufti Mohammad Sayeed, Mehbooba Mufti, Muzafar Hussain Beigh and his other colleagues who founded the party in the very trying circumstances.
He added that the lasting contribution of the PDP in the state is the mainstreaming of the political problems of Kashmir and that the party will continue to seek the implementation of its pro-peace agenda till durable peace is restored in the state.
He added that Bandipora has seen major development initiatives during the brief PDP rule after the 2014 polls and that post 2002, when PDP came to power for the first time, Bandipora remained on government's priority in more ways than one.