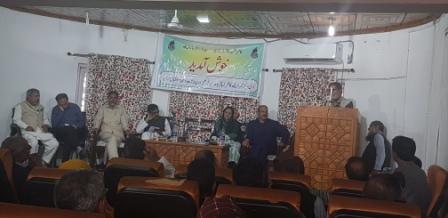 Srinagar,Jan 10: Smelling growing impact of langnague colonialism literary activists, social workers and scholars on Monday took oath to save the Kahsmiri Language and identity here in Srinagar.
The galaxy of scholars, literary activists and social workers on Monday assmebled during a day long confrence here at Culturall Academy where they unanimously decided to constitute committees to frame the modalities for fighting the elements and policies amid at demaging the Kashmir Identity and language.
The event was organised by Adbi Markaz Kamraz J&K wherein General Secretary AMK J&K Khaliq Shams hold the proceedings while President AMKJ&K Farooq Rafiabadi welcomed the guests while presenting the agenda.
During the day long discussion speakers in unison decided to constitute a confederation which will fight for the safeguard of Kahsmiri and identity.
Former Secretary JKAACL Aziz Hajini during his inaurgal speech discussed the growing impact of cultural onslaught and appealed participants to come forward for the safegaurd of deteriorating language.
Hajini said that cultural and language activists are disappointed with the government policies framed time to time for development of Kahsmiri Language and identity.
"Politicians are misusing the word Identity,even they are getting capital out of it but they never worked for development of language and identity"Hajini said.
Hajini presented the loopholes of government policies and appealed activists to come forward to fight for the cause of protecting language and identity.
Former Director Radio Kashmir and poet Rafiq Raz on the occasion said that activist's beyond any ego should join heads to strike back the onslaught initiated against the language identity.
Mansoor Banhali who was representing Jammu division during the founction siad that time has come when activists across the regions should join their heart and head to frame the coherent strategy.
Cultural activists Hasrat Gada suggested that representative's from all the literary units and formous needs to to be inducted in an inclusive and impactful committee to fight the 'onslaught'.
Former Convenor Sahityia Academy Kashmiri Prof Zaman Azrudahh during his presidential address said that time is to introspect as the gal between language and people especially youngesters are growing with every coming day.
"We need to fight back tactically and have to take every stakeholder on board to get the results" Prof Zaman said.
Among the others who speak on the ocassion include Waheed Jeelani,Saleem Beigh,Ranjoor Teligami,Amin Bhat,Mir Tariq, Ashfaq Lone,Shakeel Qalander,Mushtaq Tantray,Ayesh Arif,Farooq Fayaz,Dr Ajez,Naseem Shafaie and others.
The event was attended by representatives of different cultural and literary organisation who later constituted the six member committee.
The committee has to frame the draft within ten days for policy for safegaurding the language and identity.
Vice President AMK JK Ahad Hajini presented vote of thanks during the event.