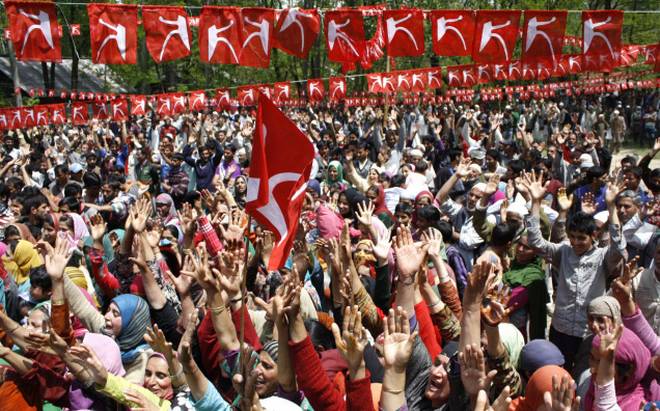 Jammu:  Asserting that the National Conference will do a 1996 again, party's provincial president Devendra Singh Rana on Tuesday said that BJP will never win 25 seats again from Jammu region in the next Legislative Assembly elections.
BJP in 2014 won 25 seats in Jammu region, while in 1996, the NC claimed 57 seats out of 86. Presently, there are 87 Assembly Constituencies.
'I want to make sure that NC will repeat 1996-like situation and win maximum seats in Assembly elections, to be held in the state anytime', Mr Rana told the media.
Stating that in 2014, BJP won 25 seats because of Prime Minister Narendra Modi, the NC provincial chief said, 'We welcome the mandate Mr Modi has received in 2019 Parliamentary Polls, but the state BJP will never win 25 seats in future because they did nothing for Jammu and its people in the last three years.
'NC will make regional councils after coming to power and the decisions of Jammu will be held in Jammu itself', he claimed and added that BJP leaders, soon after the LS Polls were declared, started giving statements that they will see the modalities to revoke Article 370 from the state, which remained their poll plank.
'One of the leaders of BJP also termed Article 370 as illegal, but I want to correct him that any clause or article falling in the ambit of the Constitution, can never be illegal,' he added.
Mr Rana, however, slammed BJP for befooling the people of Jammu, saying, 'NC is the only option for the people of the state, which is concerned for all three regions and its development.
'State BJP are claiming 50 seats in the next Assembly elections, but mark my words, they will not even touch their previous figure of 25 because of the false promises they made to the people,' he alleged and asked the BJP leaders of Jammu and Kashmir to count 10 prominent works they have done for the region or debate with him.
'Earlier in 2014, they promised a Hindu Chief Minister, but joined hands with the PDP and now again, they are dreaming of giving a Chief Minister from Jammu region,' he said and added that after pulling out of the government, why BJP approached one of the MLAs from Kashmir to seek support to form the government, who had only two MLAs.
'People will not forgive them for their misdeeds and they have to pay the price in the next Assembly elections,' Mr Rana added.