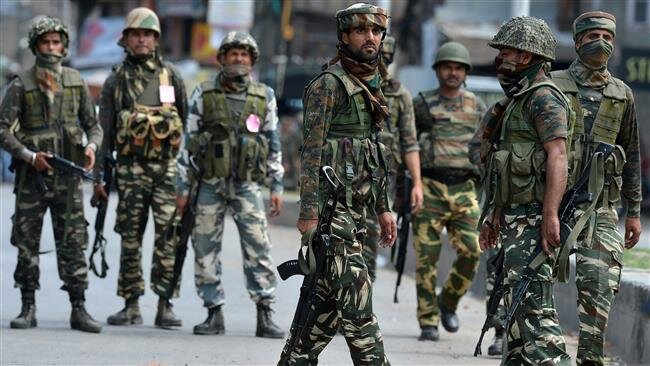 Srinagar: Two militants were killed in an encounter with government forces at Satipora area of Shopian district in south Kashmir on Sunday wee hours.
A senior Police officer told GNS that the encounter broke out at Hend Satipora village today wee hours after joint team of army's 34 RR, SOG and CRPF cordoned off the area.
The cordon was laid following the credible inputs about the presence of some militants in the area, the officer said.
He said that during the course of gunfight both the militants hiding in the area were killed.
The bodies of the slain were recovered along with as many weapons and other war like stores, the officer said.
He said that the duo were wanted in several militant related attacks.
The officer said that the identities of both the slain were ascertained as Javeed Ahmad Bhat son of Ali Mohd Bhat of Redwani Qoimoh Kulgam and Adil Bashir Wani son of Bashir Ahmad Wani of Waripora DH Pora Kulgam.
He said that after conducting all legal medico formalities the bodies of the slain were handed over to families for last rites.
Javeed, according to sources was active since 2017 and Adil was missing from May 3.
Thousands of people attend funeral prayers of both the slain at their respective native villages. While Adil was buried amid pro-freedom slogans, Javeed according to reports is being laid to rest this evening.
Meanwhile, youth took to streets and pelted stones on forces near the encounter site and its adjoining parts. The forces deployed in the area used tear smoke shells and pellets to disperse them resulting in injuries to seven persons, three of them with pellets.
The pellet injured have been identified as Shabir Ahmad (40) son of Ghulam Mohd Bhat of Checkichullan Shopain (Pellet injury in left eye), Sameer Ahmad Shah (20) Nazir Ahmad Shah of Iqbalpora Shopain (pellet injury in right eye) and
Waseem Ahmad Malla (16) son of Fayaz Ahmed Malla of Reshipora Harmen Shopain (pellet injury in left eye).
All the injured were taken to Shopian hospital where from the three pellet wounded referred to SMHS for specialized treatment.
A doctor at SMHS hospital said that the trio is being treated upon. He said that condition of all of them is stable.
The encounter broke out in Hend Sitapora Shopian today wee hours after a joint team of army and SOG launched a cordon-and-search operation in the area.
Meanwhile, in wake of the killing the authorities have snapped internet services in Shopian and Kulgam districts of south Kashmir.