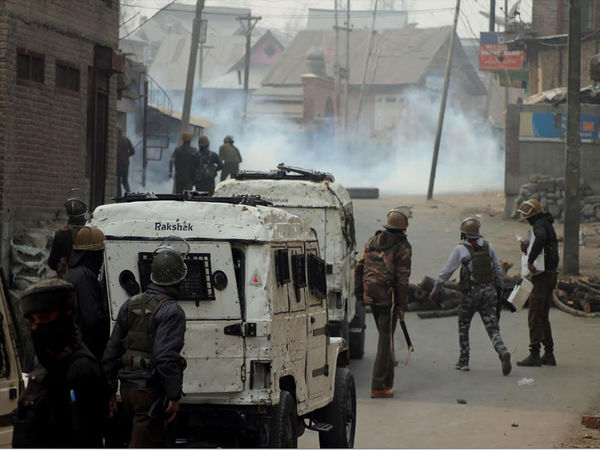 Srinagar: Around three dozen persons including polling staff and government forces personnel were injured in clashes in several parts of Pulwama and Shopian even as the twin districts observed complete shutdown on Monday. At least five polling booths were attacked with grenades and petrol bombs in southern districts.
Reports of clashes were received from several areas of Shopian including Zawoora, Manloo, Pahnoo, Dangam, Wangam, Pinjura, Aliyalpora, Batmurran, Kellar, and main town Shopian.
Reports of clashes were also received from several parts of Pulwama which include Rahmoo, Zadoora, Loswani, Wahibugh, Parigam, Wurwan, Gudoora, Circle road, Kakapora, Samboora Pampore and Nownagri.
At least twenty youths suffered injuries due to pellets and tear smoke shells in these clashes, they said. Some of the injured youth include Danish Mir, Shahid Mir and Umer Jamshi received pellet injuries at Sharshali Pampore. One youth, Zahid of Parigam of Pulwama suffered serious pellet wounds all over his body and was hospitalized in SMHS Srinagar in serious conditions, they said. One youth, Majid Reyaz Magloo suffered pellet wounds at Batmurran area of Kellar and Irshad Salam Sofi received pellet injury at Arihal Pulwama, they said.
Meanwhile, thirteen CRPF and policemen besides 10 other employees of government departments who were part of polling duty were injured in the twin districts after youth pelted stones on them.
Head Constable of CRPF Samboshan and constable Ahsan were injured at Kathohalan Kellar, SgCt Khalid was injured at Patalbagh in Samboora Pamore, DSP Shafat (SDPO) Kulgam and Head Constable Ghulam Hassan were injured at Nadpora, Padbhawan Shopian, they said. SRTC bus driver Abdul Gani of Srinagar was injured at Narwaw Shopian, they said.
Meanwhile, suspected militants attacked four polling stations with grenades and petrol bombs in Tral and Pulwama areas of South Kashmir.
Reports said that unknown persons lobbed a grenade on a polling booth stationed at Girls Middle School Rahmoo. However, no one suffered injuries in the blast.
In another incident, unknown persons hurled a "bomb" on a polling booth stationed inside Government Higher secondary school Chatpora. The device exploded outside the wall of the school. However, no injury was reported in the blast.
An official confirmed the incident and said that a manhunt has been launched to nab persons involved in the attack.
Meanwhile suspected militants lobbed a grenade on a polling booth Tikan village in the southern district. However, the device didn't explode. Police and bomb disposal squad later destroyed it without damage.
At Hergam, Behtnoor in Tral unknown persons hurled a petrol bomb on a polling booth. In another similar incident, unknown persons hurled a petrol bomb at a polling booth stationed at Boys Higher Secondary school Shopian. However, in both these incidents, no one suffered any casual. Meanwhile, shops and other business establishments remained closed in the twin districts while public transport was mainly off the roads.  (GNS)