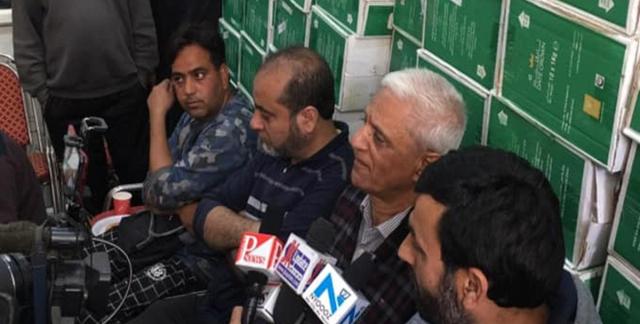 Srinagar: A Kashmiri Pandit, who had migrated to outside the valley in 1990 after surviving an attack at his shop in downtown Srinagar, has once again reopened his business establishment in the area after about 29 years.

Meanwhile, to his surprise, hundreds of locals, including his old friends, visited the shop of Roshan Lal Mawa in Gaad Koche market in downtown Srinagar to give him a warm welcome and show their support.

Mr Mawa, now 74 years old, migrated to Jammu after unidentified gunmen critically wounded him at his shop in October 1990. The trader later shifted to Delhi, where he started his spices shop with the same name- Nandlal Maharaj Krishan — as their shop in Kashmir before the family migrated.

However, Mr Mawa said that he always had a desire to resettle in the place his forefathers lived. "Despite a well to do business in Delhi, I always had yearning to come back to Kashmir and settle here," Mr Mawa said.
The Kashmiri Pandit said that he has in the past spent many summer months in Srinagar at his ancestral home, where his son a doctor is already living.

Talking about his attack, he said that on October 13, 1990, a young man came to his shop and shot at him in his shop. "I received four bullets — three in my belly and one in the shoulder. But, with the grace of God I survived," he said.

"It was very heartening to see people coming in large numbers after they came to know that I have restarted my shop. Everyone was very happy and showed their support," he said.

Asserting that the situation is conducive in the valley for Kashmiri Pandits to return, he said reopening of a shop in one of the most sensitive markets in Srinagar means that the conditions are fine.