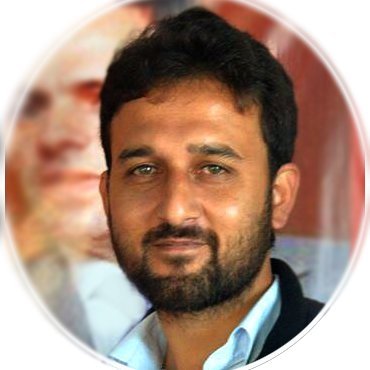 Srinagar: National Conference (NC) provincial spokesperson Imran Nabi Dar on Monday addressed series of public meeting in Kulgam constituency seeking vote and support for party's candidate for Anantnag parliamentary constituency Retd Justice Hassnain Masoodi.
Addressing a workers meet in the Kulgam constituency of south Kashmir, in-charge Kulgam constituency Imran Nabi Dar said, "The ensuing elections are significant as we are fighting for special constitutional status of our state. Today we have a situation when BJP and its cronies are contriving to dismantle the constitutional provisions of our state. However National Conference has always showed steadfastness in protecting the state's special status. We have been giving immense sacrifices for the protection of state's plural character, integrity and identity, in the future also we will leave no stone unturned to trounce the machinations of such forces as have always been inimical to our state's character."
Provincial spokesperson while flaying PDP for betraying people mandate, said, "It is the PDP that opened flood gates for BJP into the state. Today the state is facing onslaught from communal forces as are inimical to our identity. It is the PDP that provided them platform to fiddle with our institutions. South Kashmir in particular bore the brunt of PDP's embrace with BJP, every house hold in south Kashmir is wailing the loss of its loved ones, and every eye is in tears. The sky line of south Kashmir presents a charred look. Today youth are dissected. The sheer nepotism and corruption has dampened their hearts. However with Omar Abdullah in the vanguard of the new government, we will make amends to the wrongs committed by BJP-PDP, we will embalm the hearts that are in pain, we will usher in an era of development and prosperity. What was achieved by Omar Abdullah led government, was put into an abyss by the former PDP-BJP coalition."
"Now it is upto us to send right people o parliament who can represent our aspirations there, Justice Masoodi is a legal luminary, he bears the necessary political acumen to fight for our rights both inside and outside parliament. We have to strengthen his hands so that he makes to the parliament with a thumping margin," he said.
Party's candidate for Anantnag constituency Hasnain Masoodi also addressed the gathering and urged the people to rally round the flag of national conference. District President Kulgam Ab Majeed Bhat Larmi also spoke on the occasion.