Srinagar: Former Jammu and Kashmir chief minister and president of National Conference (NC) Dr Farooq Abdullah Monday said abrogation of Article 370 will pave way for 'Azadi' for the people of the state.
The debate over the abrogation of the Article 370 has turned into a major controversy in the state following a bunch of PILs in the Supreme Court.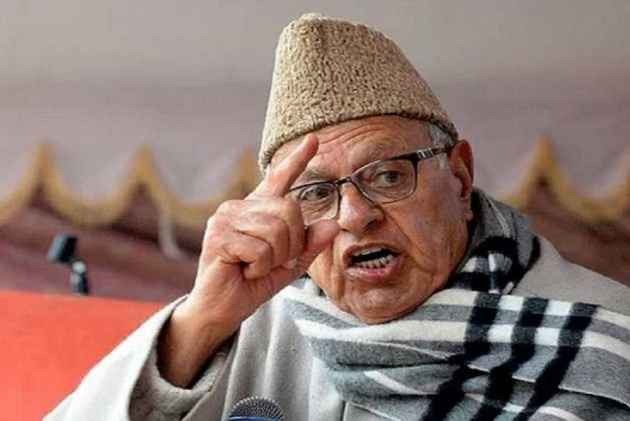 "Does New Delhi think that it will abrogate Article 370 and we will be quiet? They are wrong. We will fight against it. I think its Allah's will that they are trying to abrogate it. Let them do it and it will pave way for our Azadi," Abdullah said while addressing an election rally in Munawarabad, Khanyar area of Downtown Srinagar.
The Bharatiya Janata Party (BJP), which released its election manifesto today, also reiterated its stand about the abrogation of the Article 370 and 35A that provide special status to the residents of Jammu and Kashmir.
Reacting to the summoning of Hurriyat Conference (M) chairman and top cleric, Mirwaiz Umar Farooq, Dr. Abdullah said that why didn't they (NIA) question him here.
"Why was Mirwaiz taken to New Delhi? Why didn't they question him here? Do they want to tell us they are powerful? Such things won't suppress people at all," he told a gathering.
He also said that if New Delhi thinks that they can make JK people slaves than they are living in fool's paradise. "Prime Minister Narendra Modi claimed that they will hearts of people but I want to tell him that use of force can't help in winning the hearts of people," he said.
About highway ban, he said, to transit 45 vehicles of troopers, the Srinagar-Jammu highway was closed for a day. "JK belongs to its people but they have to get permission first to pass through the roads," he said, adding that "we have stand against this and people must vote for NC in upcoming elections and help the party to form the government on its own without any coalition so that sufferings of people will come to an end."