Srinagar: Bharatiya Janata Party (BJP) Monday in its elections manifesto said that the party was committed to abrogate Article 370 and Article 35-A of the Indian constitution, granting special status to Jammu and Kashmir.
The party said that it reiterates its position since the time of Jan Sangh to abrogate both the articles. The manifesto also siad that the party will work towards the return of Kashmiri Pandits to the valley.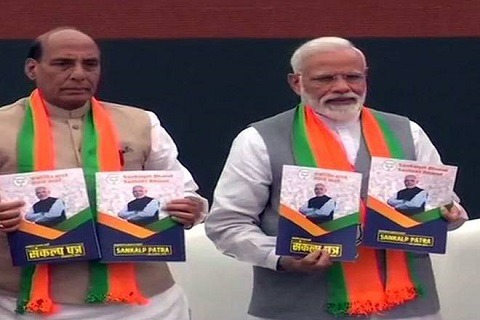 "We reiterate our position since the time of the Jan Sangh to abrogation of Article 370. We are committed to annulling Article 35A of the Constitution of India as the provision is discriminatory against non-permanent residents and women of Jammu and Kashmir," reads the manifesto.
The manifesto has been titled Sankalp Patra, means intention formed by the heart and mind. The manifesto also talks about the return of the Kashmiri Pandits.
"We will make all efforts to ensure the safe return of Kashmiri Pandits," read the manifesto. It said the party will provide financial assistance for the resettlement of refugees from West Pakistan, Pakistan-administered Jammu and Kashmir (PaK) and Chhamb.