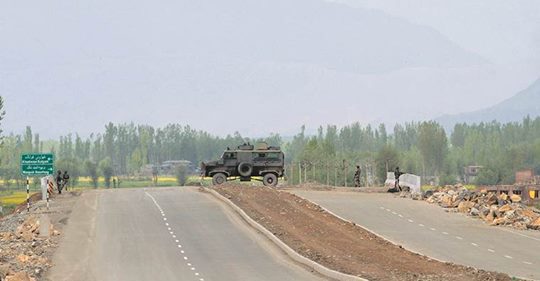 Srinagar: In a first in history, bi-weekly shut-down of highway has begun in Kashmir from 9 am onwards on Sunday.
According to the government, the highway will remain shut from south to north Kashmir for two days- Sunday and Wednesday- from 9 am to 5 pm.
On Sunday the highway wore a deserted a look. The police, CRPF, and army men, holding automatic rifles, could be witnessed manning the roads.
The bullet proof military vehicles were kept at the major intersections and junctions to deal with any emergency situation.
The forces have also blocked the all connecting roads with the highway to make the movement of army convoys smoother
Since morning, the people from far flung area could be seen walking on the highway- the lone road connecting the South, central and north Kashmir.
When The Kashmir press spoke to them, some said they were going to hospital for Medicare while others too had essential work.
"We had to go to hospital as our relative had chemo therapy," a lady, Hajra  said.
"We left the home early from Pattan. We covered a lot of distance by foot as army has sealed the highway".
The administration had said that only those vehicles will be allowed to ply on the restricted days who have prior approval from local authorities.
Even as the people were facing grave inconvenience, the people also took an aim at the administration for turning callous.
"Since 1947, it is the first time, I have heard something like closure of highway," an old man in his 60's said.
"The army and the government can't secure themselves, what will be the condition of common man? We are already insecure".
The government has appointed 18 magistrates on various points on the road to regulate the trrafic.
The government said they had to take the step of closing the highway after two fidayeen attacks.  One attack at Pulwama left over 48 CRPF men dead while as in Ramban, the alleged suicide attacker failed to make any impact.