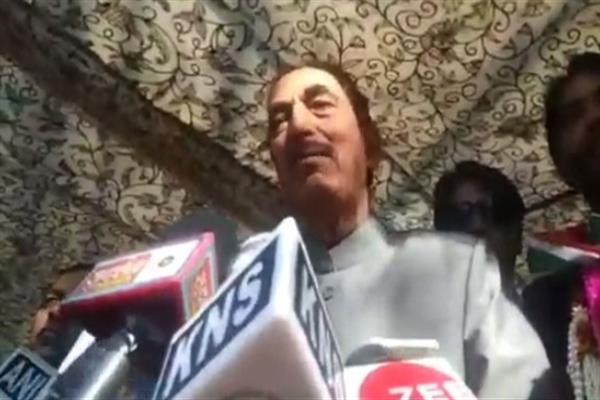 Srinagar: Senior Congress leader and former chief minister Jammu and Kashmir, Ghulam Nabi Azad on Wednesday said that any policeman, parliamentary trooper involved in the killing of an innocent civilian should not be spared.
Talking to media persons in South Kashmir, Azad said; "we have to encourage Army to fight out the militancy but at the same time, we should be conscious of the fact that if any innocent civilian is killed just to get the reward then that policeman, security person should not be spared."
He further stated that he is the not the man who mixes the words.
"I use to praise Army. I have always praised the Army for good work, fighting out the militancy. Yes, they have given supreme sacrifice for the country. Our forces including police, paramilitary forces have given supreme sacrifices and so have our civilian also given supreme sacrifice for the unity and integrity of the unity," he said.
Azad, who is also Member of Parliament (Rajya Sabha) said he as a chief minister and chairman of unified high command, had made it clear that he was with "forces all out to fight out the militancy, but, "will not tolerate any civilian killing whosoever is not involved in militancy."
"One case came before me and then I took note of that and I proved that it was a fake encounter and one SP and DySP and 11 others, all hailing from Jammu and Kashmir involved in it in jail for last 11 years," he added.
Azad further stated that "while we have to support the Army, we have to encourage them to fight out the militancy but at the same time, we should be conscious of the fact that if any civilian is killed who is not a militant, just to get 'inam' (Reward) that policeman, security person should not be spared."