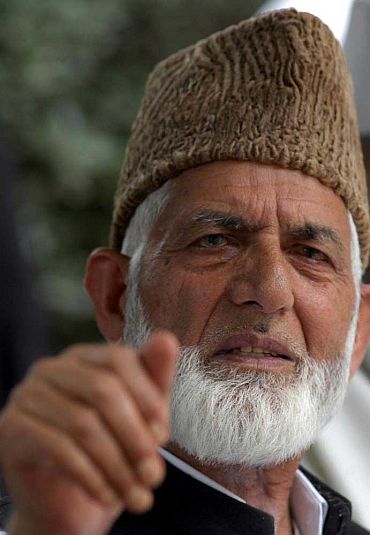 Srinagar:: Paying rich tributes to militants killed in Lasipora, Pulwama encounter, Chairman Hurriyat Conference (G) Syed Ali Geelani on Monday said Kashmir has become a dreadful battleground where death and destruction has become a daily norm.
He also appealed appealing for a complete and unanimous boycott of upcoming elections.
"Time and again we have raised our voice for justice to the people of Kashmir, but the Indian military might and its stubbornness is a major stumbling block in the way of a peaceful resolution of Kashmir dispute," Geelani said in a statement, adding, that Delhi seems to be hell-bent upon forcing our youth to take the extreme steps.
The people of Kashmir while raising their just and legitimate demand for a peaceful settlement of the said dispute as promised by the then Indian leadership, in turn, get bullets, pellets and disgrace of every kind, at the hands of forces, Hurriyat (G) chairman said.
Elections are integral part of any democratic process, but there is not even the trace of any democratic values and more than one million armed forces contain this "helpless nation" to conduct this "sham" military exercise, said hurriyat (G) chairman, while appealing for a complete and unanimous boycott of upcoming elections.
Geelani said more than 100 battalion of forces have been added, making this globally designated highly militarized zone more dense.
"Such a vast and forceful military operation even if covered under the carpet of elections, can in no way hide its venomous character," he said.
Hurriyat (G) chairman said: "No sane citizen of this state, belonging to any region or religion, is satisfied with the ground situation of this land. Death and destruction and political instability have led to such a chaotic scenario."
"A nation which has sacrificed more than a 100 thousand people is in such a pathetic and suffocating situation struggling for its existence has no moral justification to take part in any electoral process," he said.
Geelani said some argue that despite boycott people get elected. He said it is agreed beyond doubt that people have celebrated 2 percent voter turnout, but there is a hell of difference between the "crown of humiliation and crown of grace".
How can we afford to be part of the house where laws and resolutions are passed only to throttle and subjugate us, he said.
Commenting on the luring of voters by the pro-India politicians, Hurriyat (G) chairman said: "Our nation has the habit of forgetting and following blindly to the deceitful voices, but the recent memories are afresh in the minds of people who still remember the fate of autonomy, by none other than its own creators, despite having 2/3rd majority in assembly."
Geelani said the ban on religious and pro-freedom organizations has irked and pained those who themselves not only banned these groups and locked their schools, offices and residences. "Even their long beard workers burnt the Holy Qur'an in every nook and corner of the state in 1979," he said.
The pro-freedom leader said that humiliating remarks of "milk & toffee" are still echoing in the minds of people and every curb and war on the people was assigned to the "dreams" of her father.
"Arrogance of power was so intoxicating that in presence of mighty crutches of power, even the queries from media were not responded, but as the support withered away, they shamelessly started knocking the doors of people with a begging bowl," he said.
It hardly matters who wins and who loses, but no conscious, sane and mindful person should be part of "anybody's win or loss", Geelani said