Srinagar: Clashed erupted between government forces and students of Degree College Kulgam on Thursday after the news about the killing of three militants in a gunfight with forces spread.
Witnesses said that the students raised massive pro-freedom and anti-India slogans and tried to march out of the campus. However, a posse of government forces intercepted them.
"The students pelted stones on government forces who retaliated triggering intense clashes," they said. The clashes continued till the time of filing of this report.
Earlier, the clashes were also witnessed in Murran chowk of Pulwama district. Reports said that the youths hit streets and pelted government forces with stones who fired tear smoke shells to disperse them.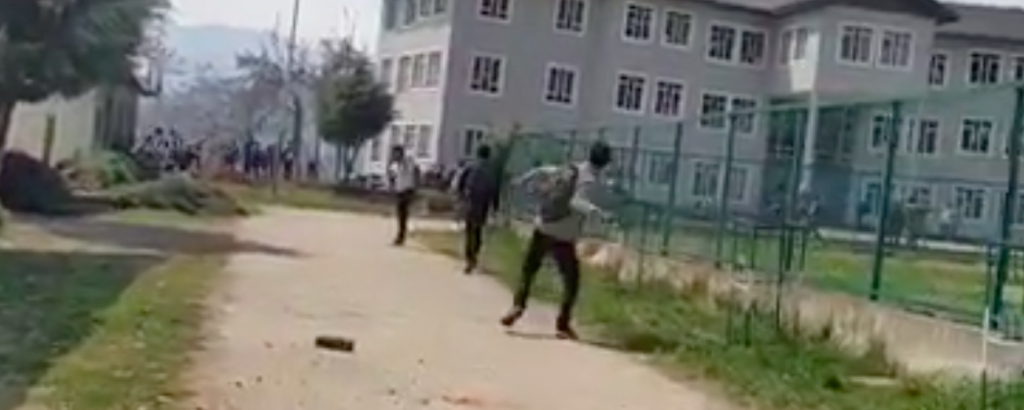 Three local militants were killed in a gunfight with government forces on Thursday in a pre-dawn gunfight in Yarwan area of Keller, south Kashmir's Shopian district.
The gunfight ensued in the village after government forces, following inputs about presence of militants in the village, laid a siege and started door-to-door search operation.
"As the searches intensified, the hiding militants fired at forces triggering a gunfight," he said.
The slain militants have been identified as Aaqib Ahmad, a resident of Bhatnoora Lassipora Pulwama, Basharat Ahmad, a resident of Wasoora Pulwama and Sajad Khanday, a resident of Bamnoo Keller.
Meanwhile, reports said that a complete shutdown is being observed in Shopian and Pulwama districts against the killing of militants. Mobile Internet services have been suspended in both the districts.